The Lawless Frontier
(1934)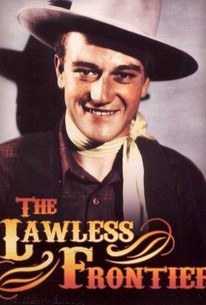 AUDIENCE SCORE
Critic Consensus: No consensus yet.
The Lawless Frontier Photos
Movie Info
Zanti, a wanted outlaw, plots to kill a rancher named Dusty in order to steal his land and his daughter Ruby. Dusty outsmarts Zanti, however, by hiding Ruby on a pack mule and smuggling her safely past the outlaw. While they are pursued by Zanti, Ruby and Dusty meet John Tobin, who is returning to his home town after an eight-year absence. John, who is hunting Zanti for murdering his parents, saves Ruby from drowning as she and Dusty try to cross the river. The group returns to the ranch accompanied by the sheriff, who arrests Zanti. The outlaw escapes, however, and stabs Dusty with John's knife. The sheriff arrests John, but Dusty recovers and frees John, who then pursues Zanti. At the end of a long chase across the desert, Zanti stops to drink from a poison water well and dies. While Dusty discovers that the sheriff is involved with Zanti's gang, Ruby goes riding and is captured by the gang. Once again John saves her and, with Dusty's help, captures Zanti's gang by trapping them in an old mine tunnel. John marries Ruby and takes over as the new sheriff.
Audience Reviews for The Lawless Frontier
Unremarkable 'B' Western. John Wayne is out to kill a half apache outlaw who kidnaps a girl the Duke has the hots for. It's a watchable adventure, but there's very little to distance itself from other 'B' pictures that Wayne made in the 30's. It does have some nice shots of the waterfall hideout, and the secret tunnel behind the bookcase. Only viewable for Wayne nuts.
Zack Butson
"John Tobin" (John Wayne) is on the hunt of the killer of his father (Earl Dwire), who kidnaps a young woman (Sheila Terry). Now, John has to save the young woman, while trying to prove he is not a member of the outlaw's gang to the bumbling sheriff, who also accuses him for killing the girl's father. This is one of the worst 1930's movies I've seen. I spent more time looking away from my computer screen than watching the actual movie. The first problem is the length of the film. It completely rushed the story, which was hard to follow at times. It also gave no chance of the characters to develop. Everybody in the cast seemed to have been forced together, and did not get the chance to develop any chemistry. A good chunk of this movie deals with "Tobin" chasing the villain. In fact, a good chunk of the entire 50 minutes was a horse chase. The villain was horrible, and I did not feel any hate toward him. I didn't even believe his accent. Surprisingly, Wayne was not good in this movie. I believe this was early in his career, and it showed. He was not leading man material in this one. He didn't even have chemistry with any of the other performers. Due to the age of this film, the audio was not great. It made the dialog nearly impossible to hear at times. There were times that you couldn't understand anything that was said. You also had the source of the sound go to almost a whisper as it moved away from the microphone. If you are a John Wayne fan, check this out if you see it on the Westerns channel, but only if there is nothing else on.
Mickey Micklon
½
Don't drink poison. Zanti is an outlaw with many men that has killed John Tobin's parents and destroyed Dusty's town. John and Dustin come across each other and join forces to hunt Zanti down. They eventually kidnap him and hand him over to the authorities; unfortunately, he escapes. The two men hunt down Zanti again in what can only end in an epic gun battle. "Better take charge of him, sheriff, before I cheat the law." Robert N. Bradbury, director of Blue Steel, The Star Packer, Riders of Destiny, The Lucky Texan, Where Trails Divide, Stars over Arizona, and Trail of Terror, delivers The Lawless Frontier. The storyline for this picture is fairly cliché, very straightforward, with "as you'd expect" characters for the genre. The acting was average and the cast includes John Wayne, Sheila Terry, George Hayes, Jack Rockwell, and Yakima Canutt. "Them renegades are after my girl. I appreciate the help." This was recommended to me by Verizon Fios so I DVR'd this classic western. Wayne was a bit raw and awkward at times in this film and the script was fairly clumsy. The overall movie was just okay and only worth viewing to diehard fans of the genre. "He likes to work alone." Grade: C
Kevin Robbins
The Lawless Frontier Quotes
There are no approved quotes yet for this movie.
Discussion Forum
Discuss The Lawless Frontier on our Movie forum!