Lazybones
(1925)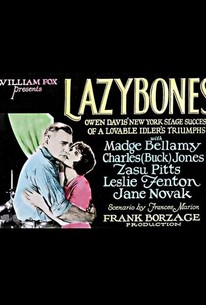 AUDIENCE SCORE
Critic Consensus: No consensus yet.
Movie Info
Charles "Buck" Jones, normally a heroic Western star, takes a surprising turn by playing a shiftless rural character in this romance. ZaSu Pitts also makes an impression in her tragic role (she was better known as a comedienne than as a dramatic actress, but she was great at both). Jones' character is known only as Lazybones because of his easy-going nature. He is in love with Agnes Fanning (Jane Novak), but their romance is derailed when her sister, Ruth (Pitts), comes home with a baby. Ruth claims that she was wed to a sailor who had drowned, but can't produce a marriage certificate. This brings down a world of shame on the hapless young girl, so she attempts suicide. Lazybones rescues her and adopts the baby girl. He refuses to give the infant up, so he loses Agnes. Ruth dies, and as the years pass, the little girl Kit grows into a lovely young lady (as played by Madge Bellamy). Lazybones goes off to fight in WWI, and when he returns, he plans to marry his ward. But then he discovers that Kit loves a young man who is much closer to her own age. Although Lazybones loses out, there is a hint that he and Agnes may reunite.
Critic Reviews for Lazybones
Audience Reviews for Lazybones
This is a sweet, sentimental, dramatic story of a man and his strangely adopted daughter. It's also got some humor, so it's an enjoyable movie, and I liked it.
Lazybones Quotes
There are no approved quotes yet for this movie.
Discussion Forum
Discuss Lazybones on our Movie forum!