Le Deuxième souffle (Second Breath)
(1966)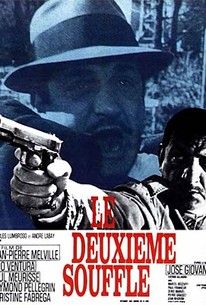 Movie Info
Veteran gangster Gustave (Lino Ventura) escapes from prison to find his sister is being blackmailed by some petty thugs in this crime thriller. He plans one last caper to steal enough money in hopes of retiring to a tropical paradise. He and his gang are sought by a detective (Paul Meurisse), the cop who plays by the book and avoids the sadistic torture practiced by his less-honorable cohorts. Soon Gustave is caught between the police and the double-crossing gangsters and discovers too late that there is no honor among thieves. ~ Dan Pavlides, Rovi
Critic Reviews for Le Deuxième souffle (Second Breath)
Audience Reviews for Le Deuxième souffle (Second Breath)
½
Well worth seeing, but overlong. And the directing style is so dry and flat -- scarcely even any score to enliven the action -- that it further aggravates the viewer's impatience. I prefer a few other Melville films (Le Doulos, Le Samourai, Le Cercle Rouge) over this one.
Eric Broome
Super Reviewer
½
In "Le Deuxieme Souffle," Inspector Blot(Paul Meurisse) is in disbelief that nobody claims to have seen anything at a shooting at a Paris restaurant that left one dead. Truth be told, they did and they also know that it involved a conflict centered around the cigarette racket. Afterwards, Manouche(Christine Fabrega) is escorted home by her bodyguard Alban(Michel Constantin) but they are ambushed by a couple of thugs, seeking to cash in. Things might have turned out worse had her brother Gu(Lino Ventura) not chosen that moment to return to Paris after having escaped from prison. Manouche wants to hide him but he wants to leave the country instead and needs money to do so. "Le Deuxieme Souffle" is a stylish and moody crime drama that starts with an astouding and wordless opening five minutes. After that the movie slows down and does suffer from a couple of contrivances concerning Gu's movements.(It's always possible that he heard rumors around prison concerning the attack on the restaurant and the platinum robbery and chose that moment to escape but it is not very likely.) This is still a complex movie set in an underworld where life is cheap and honor is the only true thing of value. What is important is who you can trust in such circumstances.
this is definitely one of those hiest films that needs to be seen more than once. the film bears the usual complexity of a melville creation, but with sometimes the lack of clarity of the few films he made that rank slightly higher than this one. the only downside to the film is the early overuse of the macguffin tactic, but overall the final 90 minutes of the film come together impressively to create the brilliance of a film i know i will rewatch many times. the hiest sequence was among the best in film history, and with some slight choice differences early on this film could have flirted with masterpiece status.
Le Deuxième souffle (Second Breath) Quotes
There are no approved quotes yet for this movie.