Le magasin des suicides (The Suicide Shop)
(2012)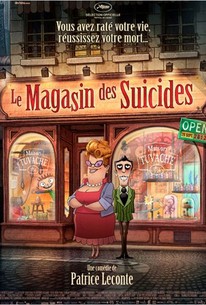 Le magasin des suicides (The Suicide Shop) Photos
Movie Info
Patrice Leconte adapts Jean Teulé's darkly comic 2007 novel into a animated musical concerning a young child with a sunny disposition born into a family that thrives on the misery of others. Since 1854, the Tuvache family has owned a small shop catering to the suicidal impulses of its depressed clientele. A walk down the shadowy isles of this morbid boutique reveals a dazzling variety of instruments with which weary shoppers can end their suffering. When pessimistic proprietor Mishima and his depressive wife give birth to a baby boy named Alan, they're overjoyed at the thought that he will be just as miserable as his somber siblings. But Alan isn't like the others; bright-eyed and energetic, he's a ghastly ray of sunshine in their cherished world of grey skies. Not even the carcinogenic cigarettes enthusiastically bestowed to Alan by his concerned father are enough to snap the cheerful child out of his optimistic slump. Realizing that the very future of their enduring family business may be threatened by the beaming boy, the Tuvache's soon resort to desperate measures in their efforts to keep the misery alive.
Critic Reviews for Le magasin des suicides (The Suicide Shop)
Audience Reviews for Le magasin des suicides (The Suicide Shop)
½
Leconte seems unsure about the tone of the story, mixing playful musical numbers with a morbid, gloomy subject that is definitely not for children. At the end, what we are left with is a disappointing animation that is too dark for kids and too silly and optimistic for adults.
Carlos Magalhães
Super Reviewer
Le magasin des suicides (The Suicide Shop) Quotes
There are no approved quotes yet for this movie.