Le Petit Lieutenant
(2006)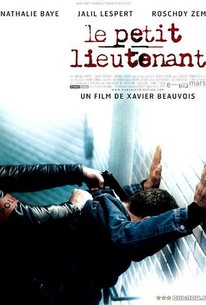 Movie Info
A young, inexperienced detective is inducted into an elite Paris plainclothes unit in Le Petit Lieutenant, directed by Xavier Beauvois (Don't Forget You're Going to Die). Antoine (Jalil Lespert or Human Resources) is as gung-ho as they come, and eager to learn everything he needs to know to be a good cop, although he misses his wife (Bérangère Allaux), a schoolteacher who stayed behind in the country when Antoine took his new job. Antoine socializes with his new comrades, who seem to drink an awful lot, with the exception of the unit commander, Caroline (Nathalie Baye), an alcoholic who has just returned from a long stint on desk duty. The other experienced detectives that Antoine looks up to are the cynical Louis (Antoine Chappey), and the stalwart Solo (Roschdy Zem), who in addition to the rigors of the job faces bigotry due to his Moroccan origin. When a Polish immigrant is found murdered in a canal near the station, the unit begins a methodical investigation, eventually learning that the victim was last seen with a couple of Russians. When a second victim is rescued from the waters of the canal a few days later, the case takes on a new urgency. As Antoine tries to fit in and learn on the job, Caroline struggles with her addiction and forms an almost maternal bond with the rookie. Le Petit Lieutenant also features Jacques Perrin, and was shown by the Film Society of Lincoln Center as part of their 2006 Rendez-Vous with French Cinema. ~ Josh Ralske, Rovi
Critic Reviews for Le Petit Lieutenant
Audience Reviews for Le Petit Lieutenant
Strikingly real French cop drama. Beauvois simply goes about telling his story and developing his characters with no Hollywood "tricks". Thankfully, the story is damn good and the characters are intriguing, which makes the events that unfold all the more powerful.
½
It's March! :fresh: [img]http://homeroom.pnca.edu/docs/inline/1695[/img]
Neum Daddy
Super Reviewer
½
[font=Century Gothic]"Le Petit Lieutenant" starts out with Antoine Derouere(Jalil Lespert) graduating from the police academy and chooses as his first assignment the detective squad in Paris, much to the consternation of his young wife, who does not want to leave her teaching job in Le Havre. In Paris, Antoine is assigned to the Crime Unit under Commander Caroline Vaudieu(Nathalie Baye), a recovering alcoholic, two years sober, and only now returning to active duty. Things settle into a routine after a while for Antoine until a body turns up in the canal who turns out to be a drunk Antoine helped process a short time before.[/font] [font=Century Gothic][/font] [font=Century Gothic]"Le Petit Lieutenant" is an absorbing police procedural that is more interested in character than in mystery.(It also explores the themes of prisons and racism.) This is a subdued movie that is layered in details about people going about their jobs on a daily basis.(While the policemen in this film may worship the violence of American films, the reality is most often quite different.) It avoids expectations throughout and only during one critical sequence does it telegraph its punches.[/font]
Le Petit Lieutenant Quotes
There are no approved quotes yet for this movie.