Le Pont du Nord
(2013)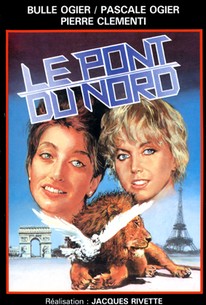 Movie Info
In this unreal walk through the streets of Paris, Marie (Bulle Ogier), a woman convicted of robbing a bank is just out from prison when she runs into Baptiste (Pascale Ogier) a young paranoid needing companionship, and the two team up for awhile. Marie's former boyfriend (Pierre Clementi) supplies them with a strange map of the city, suspicious because he keeps files on political figures that may be somehow linked to the map. A gangster nicknamed "Max" begins to track Marie and the already paranoid Baptiste, causing Marie to examine the map as though it held the clue to which sides of the city were "safe" and which were not. As the two women attempt to outsmart Max and unknown gangsters, they try to figure out the map - a task made all the more difficult by Baptiste's tendency to violent rushes of adrenaline and Marie's overworked imagination (a dragon at the North Bridge is a threat until Baptiste screams him down). Between the dragon and their own demons, Marie and Baptiste face frightening odds against coming out of this misadventure intact. ~ Eleanor Mannikka, Rovi
Critic Reviews for Le Pont du Nord
Audience Reviews for Le Pont du Nord
Like Jacques Rivette's previous "Julie and Celine Go Boating," his film "Le Pont Du Nord" starts with a game of tag in Paris between two women, Marie(Bulle Ogier), who arrives in town on the back of a truck, and Baptiste(Pascale Ogier), who rides on a scooter. This games stops on the third try as Baptiste considers that it is fate that they keep running into each other. So, Baptiste who sees herself as something of a knight(she considers her leather jacket her armor) agrees to protect the more vulnerable Marie who is extremely claustrophobic after spending three years in jail and aid her in her search for Julien(Pierre Clementi) who carries a briefcase. The next game involves a map of Paris in Julien's briefcase that is marked off into separate squares. And as highly improvised as this bewildering movie feels at times(it does not have an ending, so much as comes to a sudden halt), it does actually have some coherent ideas on how Paris tries to overwrite its past, as Marie is forced to face the repercussions of her own radical past. This is conveyed ably by the movie's locations(unusually so for an urban set movie, about 98% of the locations are exteriors) of construction sites and abandoned railroad stations and other buildings.
Le Pont du Nord Quotes
There are no approved quotes yet for this movie.