The Legend of Drunken Master (Jui kuen II) (Drunken Fist II)
(1994)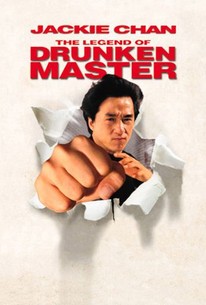 The Legend of Drunken Master (Jui kuen II) (Drunken Fist II) Photos
Movie Info
Jackie Chan returns in one of his greatest roles in this action-comedy sequel to his 1978 Hong Kong blockbuster Drunken Master. Wong Fei Hong (Chan) is a young master of the martial art of "drunken boxing," in which fighters use alcohol to blind themselves to pain and release the angry brawler within; with the right amount of drinks under his belt, Hong can become a furious one-man army. Hong accompanies his father (Ti Lung) on a voyage to China, where they purchase a precious supply of ginseng. When Hong discovers thugs stealing from their luggage, he leaps into action to get their belongings back. Instead, he winds up with a box of valuable Chinese artifacts, which criminals are hoping to smuggle to England at a tremendous profit. Hong sets out to fight the gangsters and give the artifacts back to their rightful owners, but while his stepmother (Anita Mui) encourages him to use his drunken boxing skills, his father feels his boozy antics bring shame to the family. Jackie Chan brought some of his most elaborate stunt work to Drunken Master 2, including a remarkable fight on a bed of hot coals; Chan also directed part of the film, after Lau Kar Leung was fired after a number of disagreements with his star. Six years after it became a box office hit in Asia, Drunken Master 2 earned a theatrical release in the United States; the film was re-titled Legend Of The Drunken Master (in part because the original Drunken Master never had a proper theatrical release in America), re-edited, and dubbed into English, with a new score by Michael Wandmacher. ~ Mark Deming, Rovi
News & Interviews for The Legend of Drunken Master (Jui kuen II) (Drunken Fist II)
Critic Reviews for The Legend of Drunken Master (Jui kuen II) (Drunken Fist II)
Audience Reviews for The Legend of Drunken Master (Jui kuen II) (Drunken Fist II)
[img]http://images.rottentomatoes.com/images/user/icons/icon14.gif[/img]
Directors Cat
Super Reviewer
½
A successful sequel concerning a martial-arts master (Jackie Chan), who is at his best fighting wise only when he is drunk, and how he accidentally steals some valuable Chinese artifacts, all of which criminals are after. The plot isn't much, and sometimes the movie is goofy to the point of being annoying, but the martial-arts sequences are hands-down the best I have seen in a movie. It is an entirely familiar set-up and the ending is never in doubt, but for what it is worth, this is a fun movie worth a view simply for the stunning fight sequences, especially a loaded finale which only gets better. Chan is a likable personality, and it is easy to see why he became such a big star in America due to films like this.
Dan Schultz
Super Reviewer
½
Your usual martial arts movie affair: dubbed voices, oppression running left and right, using the art of kung fu for peace, horrible narrative, etc. But this is undoubtedly Jackie Chan's greatest choreography put into film, ever.
Albert Kim
Super Reviewer
The Legend of Drunken Master (Jui kuen II) (Drunken Fist II) Quotes
There are no approved quotes yet for this movie.