Sister
(2012)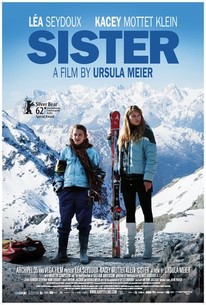 Movie Info
Simon (Kacey Mottet Klein) lives with his older sister (Léa Seydoux) in a housing complex below a luxury Swiss ski resort. With his sister drifting in and out of jobs and relationships, twelve-year-old Simon takes on the responsibility of providing for the two of them. Every day, he takes the lift up to the opulent ski world above, stealing equipment from rich tourists to resell to the local kids down in the valley. He is able to keep their little family afloat with his small-time hustles and his sister is thankful for the money he brings in. But, when Simon partners with a crooked British seasonal worker, he begins to lose his boundaries, affecting his relationship with his sister and plummeting him into dangerous territory. -- (C) Adopt Films
People Who Like this movie also like
News & Interviews for Sister
Critic Reviews for Sister
Audience Reviews for Sister
Meier shows that she can manage a sad subject with sensitivity while Klein shines as the adorable and charismatic young protagonist, but the film doesn't seem to know how to end and the two only English-speaking characters added to the story are superfluous.
Carlos Magalhães
Super Reviewer
½
At the tender age of 12, Simon(Kacey Mottet Klein) is the man of the house and has all the responsibilities that go along with it. That has a lot to do with his older sister Louise(Lea Seydoux) not being to hold down either a job or a boyfriend. So, Simon travels up to a nearby ski resort where he steals anything that is not nailed down which he sells later to support them. While there, he finds an unlikely business partner(Martin Compston) and meets a friendly tourist(Gillian Anderson). Even without much of a story to speak of, "Sister" is still a harrowing tale of survival on the edge. As such, sometimes it is a little hard to watch but in the end is quite worthwhile. That is set around a classic separation of the classes who only rarely meet on personal terms. But in this fictional world, things are rather topsy turvy, encapsulated in the enigmatic final shot and symbolized by a huge plot twist 2/3 of the way through that while maybe a shock is actually not all that surprising.
½
Really well done movie. I wanted to feel sorry for the pair of them, but I just couldn't, they were too unlikeable with their actions. But then part of me understood why they were both like that. Very subtle film that does challenge you a little. Gillian Anderson is barely in it. Not sure why she has top billing. Her character is really nothing here and could easily have been omitted. Very
Nicki Marie
Super Reviewer
Sister Quotes
There are no approved quotes yet for this movie.