Les Dames du Bois de Boulogne (Ladies of the Park)
(1964)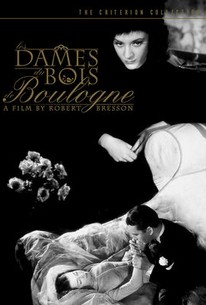 Les Dames du Bois de Boulogne (Ladies of the Park) Photos
Movie Info
Though this interesting film was among many responsible for the critical success of French autuer Robert Bresson, it was by no means a commercial success. Slightly different than his other films, director Bresson utilized the contrasty photography of Philippe Agostini (Sylvie et le Fantome, Monde du Silence) and chose professional actors Paul Bernard (Lumiere D'ete), Maria Casares (Enfants du Paradis), and Elina Labourdette (Shanghai Drama) to star rather than non-professionals. With dialogue written by writer/filmmaker Jean Cocteau, Les Dames du Bois du Boulogne was adapted to the screen by Bresson from an interpolated anecdote in Diderot's Jacques Le Fatalist. Casares plays Helene, a passionate but self-controlled woman who is seething after her lover Jean (Bernard) confesses he no longer loves her. Driven by revenge, Helene engineers a plan to attack Jean via Agnes (Labourdette), the woman he truly loves, and Anges' mother (Lucienne Bogaert). ~ Kristie Hassen, Rovi
Critic Reviews for Les Dames du Bois de Boulogne (Ladies of the Park)
Audience Reviews for Les Dames du Bois de Boulogne (Ladies of the Park)
½
Like 1950's "Les Enfants Terribles" (also scripted by Jean Cocteau), "Les Dames du Bois de Boulogne" is a tale of a spiteful shrew manipulating others into a false romance. Did Cocteau have issues with women that I should know about? The film opens with the split of a rich, socialite couple as Jean (Paul Bernard) confesses that he no longer loves girlfriend Helene (Maria Casares, also the co-star of Cocteau's "Orpheus"). Jean is a naive, idealistic sort who means no harm and wishes to sustain a friendship, but Helene secretly plots revenge. Taking advantage of her ongoing influence, she wickedly steers him to court Agnes (Elina Labourdette), a cabaret dancer and prostitute whose grace and fresh beauty belie her tawdry background. Similarly, Helene builds a calculated relationship with Agnes and pushes her toward Jean. Jean quickly falls in love, like people do in dreamy '40s movies, and thus seems bound for crushing disgrace when he (and his peers) learn of his new mate's past. It's hard not to unfavorably compare "Les Dames du Bois de Boulogne" with "Les Enfants Terribles" -- the former suffers from weaker visual style, a less charismatic cast and a corny, melodramatic ending. And while "Boulogne" may be an early Robert Bresson film, it has few of the director's stylistic trademarks. The characters do have the rapturous, artistic passions familiar to Cocteau scripts, and fans of his work will find plenty to enjoy.
Eric Broome
Super Reviewer
½
In "Les Dames du Bois de Boulogne," Jean(Paul Bernard) dumps his lover Helene(Maria Casares), having the termerity to not only be polite about it, but also on their second anniversary, which he had forgotten about. So, of course, you know this means revenge. Helene's fiendish plan starts on a kind note with the rescue of Agnes(Elina Labourdette), a dancer, and her mother(Lucienne Bogaert) from their debts, both financial and moral. Having set them up in a new apartment, all Helene wants them to do is go for a walk in a nearby park... "Les Dames du Bois de Boulogne" is an above average melodrama that again shows that unless you are Steven Moffat and Mark Gatiss how hard it is to adapt a classic story(in this case from the 18th century) to the present day. Adding a degree of difficulty here is that this particular tale concerns morals, which makes it hard for even the most astute viewer how to apply them, considering this movie was also made in 1945. In any case, Helene's scorched earth approach leaves a little to be desired, as Agnes suffers through no fault of her own and much more compared to Jean who certainly has more to lose. In fact, Helene's behavior is almost so over the top that she actually reminds me a little of an evil witch from a Disney cartoon.
It was hard to get into and really difficult to stay focused, but it is definitely a film that makes it all work by the end. The last 15 minutes are excellent, the only question is that did everything that preceded it have to be presented as such to make the ending work or could Bresson have spiced things up a little in between and still maintained the same effective ending?
Les Dames du Bois de Boulogne (Ladies of the Park) Quotes
There are no approved quotes yet for this movie.