Les Plages d'Agnès (The Beaches of Agnes)
(2008)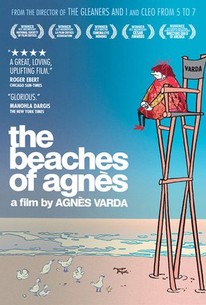 Les Plages d'Agnès (The Beaches of Agnes) Photos
Movie Info
Agnès Varda has been one of the most distinct voices in French cinema since making her directorial debut with La Pointe Courte in 1954, and she offers a singular look back at her life and career in this autobiographical documentary. Most of Les Plages d'Agnès (aka The Beaches of Agnès) takes place on the seashores of France and Belgium, where she shares memories with her friends and family, looks at her photos and clips from her films, reenacts moments from her past with the help of her crew and a handful of nonprofessional actors, and examines both her successes and failures, often using visual metaphors to illustrate her attitudes about her past (mirrors to reflect what goes on around her, a small house literally built from a print of one of her movies). The Beaches of Agnès received its North American premiere when it was screened as an official entry at the 2008 Toronto Film Festival.
News & Interviews for Les Plages d'Agnès (The Beaches of Agnes)
Critic Reviews for Les Plages d'Agnès (The Beaches of Agnes)
Audience Reviews for Les Plages d'Agnès (The Beaches of Agnes)
a touching video scrapbook of varda's life and career, including friends and family and her late husband, director jacques demy, all in her typical free wheeling documentary style. a joy for fans of the left bank pioneers
Stella Dallas
Super Reviewer
French director Agnes Varda has an endearing, comfortable way of making a film seem like a spontaneous inspiration. It's as if she's shooting in real time and just following whatever tangent occurs to her in the moment. In the case of the autobiographical "The Beaches of Agnes," the story effortlessly skips between flashback recreations, scenes from her past work, present activities (her 80th birthday party is the climax) and surreal set pieces. But how much you enjoy the movie will depend a lot on how interested you already were in her life. She has known a slew of famous artists, and she obviously still grieves her late husband, director Jacques Demy ("The Umbrellas of Cherbourg," "Lola," "Donkey Skin"). She's a whimsical, funky lady with a youthful spirit. But her droll self-tribute is a bit indulgent, and not as academically informative as it could be. Still, you might pick up a few rental ideas. (Are "Les Creatures" and "Lions Love" really as lame as she says?)
Eric Broome
Super Reviewer
Though probably not for everyone...I found this autobiographical documentary to be totally engaging and beautifully pieced together. Varda is a delightful mixture of eccentric teacher, quirky but loving grandmother and sublime artist with an eye for the abstract, but remarkably down to earth. All of these characteristics are reflected in this lovingly created homage to her friends, family, life and art. A most see for fans of the French New Wave, the art of Documentry film making or just charming creative people.
Les Plages d'Agnès (The Beaches of Agnes) Quotes
There are no approved quotes yet for this movie.