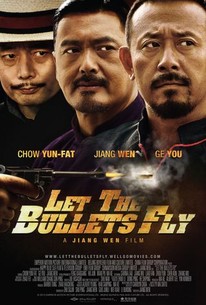 Let the Bullets Fly
2010, Western/Comedy, 2h 12m
33 Reviews
2,500+ Ratings
Where to watch
Rent/buy
Rent/buy
Rent/buy
Rate And Review
Let the Bullets Fly Photos
Movie Info
A hoodlum (Chow Yun-Fat) feels threatened by his town's new governor (Wen Jiang), who is really a bandit in disguise.
News & Interviews for Let the Bullets Fly
Audience Reviews for Let the Bullets Fly
I was so confused by the end of this film about exactly how many times the plot twisted and turned from beginning to end that I had to close my eyes and think about what just happened scene by scene. And then I thought to myself...screw it, I laughed and enjoyed this dark action adventure comedy. The acting is pretty solid. Many people won't know who any of the main guys are outside of Chow Yun-Fat, but this harkens back to the days of Kung Fu Hustle and Stephen Chow. If you've ever seen that (I recommend it highly if you haven't), it has that same kind of feel; Silliness and absurdity with touches of great writing and dialogue. It's stylish environmentally and touching emotionally in certain moments, but it always ends up making you laugh when the scene finishes. Like I said earlier though, my main gripes that knock this down to the score I gave it have to deal with the terrible CGI and confusing journey to get to the conclusion. I'm a big fan of foreign action/comedy films and this one did its job of keeping me interested through the entire 2 hour run time.

Let The Bullets Fly is unusually complex for a comedy, but it's also one of the funniest movies I've seen in a long time. With a great cast of characters and lots of funny jokes it was all around just a fun experience. Let the Bullets Fly is set in China during the warring 1920s, notorious bandit chief Zhang descends upon a remote provincial town posing as its new mayor, an identity that he had hijacked from Old Tang. Hell-bent on making a fast buck, Zhang soon meets his match in the tyrannical local gentry Huang as a deadly battle of wit ensues. I really enjoyed complexity in movies, especially when it's this much fun and enjoyable. I don't think I've ever seen another comedy with so many funny and smart characters. There fun, smart, brutal, and they add more fun to the movie with each character having there own personality. Now one thing I think audiences will be disappointed in is that there isn't much violence, but I don't they'll mind with the fun they'll have watching this. The cast of this movie is well put together and they deliver great performances to get behind. Each actor felt so perfect and fit perfectly into there character and they got great comedic timing. My favorite of these performances is Yun-Fat Chow as he's pretty effective and fun in a comedic role. I will praise the few scenes of violence even though they're not long, what come afterward are always some smart humor. Now I don't know about other reviewers, but I just love the location where this was filmed. It's a beautiful country and I can't think of a better place they could have shot it. Let The Bullets Fly is a smart complex comedy with tons of hilarious jokes and tons of fun. It's a comedy unlike anything you've seen before and it'll definitely will bring enjoyment for anyone looking for a laugh.

Let the Bullets Fly is one of the better Chinese comedies I've seen. This action full film is written and directed by Jiang Wen, based on a story by Ma Shitu, a famous Sichuanese writer. The film is set in Sichuan during the 1920s when the bandit Zhang (Jiang Wen) descends upon a town posing as its new mayor. The film also stars Chow Yun-fat, Carina Lau, Ge You, Chen Kun and Zhou Yun. Casting was so well done that I thought that roles are just made for those actors! The film's script went through over thirty drafts before Jiang Wen was happy with it, and you can see it in the final cut: almost everything was done perfectly. With its two versions (one in Mandarin and one in Sichuanese), the film broke several box office records in Mainland China and Hong Kong, and has received critical acclaim, when it was released. I enjoyed most of it (it had subtitles :-) ) and if you love to experience rollicking Chinese western directed with cinematic gumption, it's your turn!

A big sack of fun is this one, clever, funny and always enjoyable. The story comes and goes a bit too much around the middle, but the final act wraps everything so well. The commie-oriented message, our hero taking away goods from the evil capitalist bad guy and giving them to the people, acquires a more complex structure thanks to a solid script. The "people" are just as greedy as the bad guy, if not more.
See Details