Let Us Prey
(2014)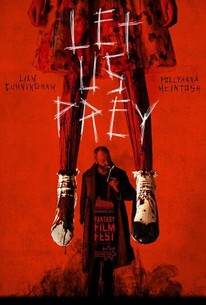 Movie Info
Rachel, a rookie cop, is about to begin her first nightshift in a neglected police station in a Scottish, backwater town. The kind of place where the tide has gone out and stranded a motley bunch of the aimless, the forgotten, the bitter-and-twisted who all think that, really, they deserve to be somewhere else. They all think they're there by accident and that, with a little luck, life is going to get better. Wrong, on both counts. Six is about to arrive - and all Hell will break loose!
News & Interviews for Let Us Prey
Critic Reviews for Let Us Prey
Audience Reviews for Let Us Prey
½
A singular sort of horror, both modern and classical, that came as a very pleasant surprise. Adroit work from director Brian O'Malley's feature-length debut, works primarily on the strength of the performances, each and every single member of this small cast shines.
Pretty dumb. Another confusing horror/suspense film. Ending is cool but there's not a lot else here.
Stephen Skudlarek
Super Reviewer
This is a good horror movie, even though I do think that it probably thinks that it was more clever than it actually was. I think that it likes to pretend that it's more subversive than it actually is. It doesn't really do anything that hasn't been done before, particularly in the horror genre. With that said, I do think the film offers a good mix of mystery, suspense and gore to satisfy a wide variety of horror geeks. My earlier complaints aren't meant to suggest that I don't think the film is intelligently written, because it is, but its reach definitely exceeds its grasp. Honestly, it's a bit of a weird love story between God and Satan. Yes, you read that right. At least that's how I perceived the ending, it's like a reconciliation between those two. Honestly, while it was a good idea in theory and the execution was actually pretty good, it's the type of twist that I usually hate in that, when put to scrutiny, it doesn't actually make a whole lick of sense as the film likes to speak in riddles. I mean I liked it because it added a whole new layer to the film that definitely wasn't there in the beginning and the actual idea behind this was actually good. It's just that it, realistically speaking, doesn't really make sense. Then again, Six knowing the sins of everyone at the police station really wouldn't make sense if you really think about it. So it is what it is. And, honestly, like I said, I didn't actually hate it as much as I usually do because it's actually well-executed. This isn't a scary horror film, but it does build a good amount of tension and it peaks really well. The climax is really well done. I've seen a lot of complaints about the dialogue itself and I, honestly, outside of a couple shitty lines, never really noticed it that much to the point that it was detrimental to the entire experience. The acting of the film is actually pretty damn good, it might actually be the best thing about the film. I just think everyone plays their character incredibly well, but, of course, Liam Cunningham steals the show. Granted, his character is designed to be the focal point, but Liam Cunningham has an incredible presence and manner of delivery that makes it so your eyes are drawn to him any moment he appears in a scene. Even if that scene includes gruesome deaths. The cinematography is also pretty damn excellent and it's a supremely well-shot film. I'm kinda curious why the film didn't have a more positive reception with viewers here. It is what it is and, in the long run, as long as I liked it then, and I mean it in the nicest way possible, then it doesn't matter if anyone else liked it or not. It's just that the movie definitely has a lot going for it, so you'd think audiences would've liked it more. With that said, its reach might exceed its grasp, as I mentioned, but it's still a good horror movie that I'd definitely recommend as a rental. Maybe wait until it hits Netflix Instant, if it ever finds its way on there, but this is a good horror movie, so I can't complain much.
Jesse Ortega
Super Reviewer
Let Us Prey Quotes
There are no approved quotes yet for this movie.