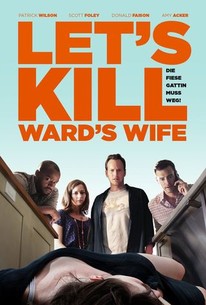 Let's Kill Ward's Wife
2014, Comedy, 1h 32m
6 Reviews
500+ Ratings
Where to watch
Rent/buy
Free
Subscription
Rent/buy
Rate And Review
Let's Kill Ward's Wife Photos
Movie Info
Everyone hates Ward's wife and wants her dead, especially Ward. When their numerous fantasies come true after an accident, they have to deal with a whole new set of problems.
Audience Reviews for Let's Kill Ward's Wife
Been a couple of days since I've reviewed a film. I've started watching some, but I just haven't been able to finish them. Maybe I should've finished those films before starting this one last night, but I didn't do so, as you can plainly see. Honestly, however, this film didn't really achieve much. There's a good idea here of seemingly normal people finding themselves in a situation where they have to dispose of a body of a person that no one will really miss because of her bullying and unlikable nature. It's not like there's anything great here, as far as concept goes, but there is something here, but the film doesn't really do much to really go as all out with its concept as it possibly could. I'm not saying that Scott Foley is an untalented writer or director, I'm just saying that his ideas might've read better on paper than they did on screen. It just seems like they took the first draft and went ahead and just filmed that. Again, that might read as an insult, but it's just a film that feels empty and shallow in the lead-up to Stacy's death. Hell, it's a movie that ends up feeling empty and shallow even after Stacy's death. The work from the cast is certainly solid enough, particularly from Patrick Wilson, but the character development isn't really that strong. Then again, the film is 80 minutes long and the first 30 minutes of it are dedicated to everything leading up to the eventual death. But there's only minimal stuff done. For example, Scott Foley's character doesn't find his wife sexually desirable, Patrick Wilson's character is trying to get back with his wife, Ward is trying to withstand Stacy's bullying and Ronnie is just like a real-life Quagmire, except not nearly as bad as Quagmire is. That's a lot of story elements to juggle in a film that's only 80 minutes long and that's not even covering the murder and covering it up itself. Not to say that the movie doesn't have some laughs, but there's not nearly enough of them. I did like how Scott Foley's character's relationship with his wife improves their marriage and how they finally start to have sex again. It wasn't funny, but it was something good that the film did, something different. I will say that the film does have a very self-serious tone in its final act. With Ronnie's conscience suddenly acting up. It's a very jarring tonal shift and one that's not to the benefit of the film in the slightest. Essentially Scott and Patrick's character make Ronnie golf club Ward's wife's face until it's unrecognizable, so he's just as guilty as all of them are, even though he already is by fact of actually participating in a cover up. Ronnie is very clearly pissed at his two long-time friends for making him do this, as well he should. I thought this would've been good, because it shows that, even if they didn't face the legal consequences for murdering and then covering up the murder of Ward's wife, that Ronnie's view of two of his best friends would change and that nothing would ever be the same again. That would actually have been really good. But, no, the film had to screw that up. And you wanna know how Ronnie's moral dilemma was solved? Tom, Scott's character, got Ronnie a hot date with an actress Tom interviewed for the magazine he worked for. Yes, really. That's how Ronnie's complex moral dilemma was solved. He got a date. That's, honestly, really bad writing. I have no problem with the characters, literally, getting away with murder, but Ronnie's moral dilemma, which was the central part of the last act, to be resolved as easily as that is really bad writing in my opinion. That's probably the only thing I had a big problem with, even though I didn't think the movie was good. It's not that I disliked it, there's something here, but it's a black comedy that's lacking in edge and style. A black comedy at least needs to be, somewhat, edgy. This movie isn't. Decent performances from the cast, particularly Patrick Wilson, who's always good, don't really make up for the lack of a really strong script and unfocused direction. Like I mentioned, I didn't entirely dislike it, but I wouldn't really recommend it at all.

Written and directed by Scott Foley, Let's Kill Ward's Wife is a quirky horror-comedy. When Ward's bitchy, over domineering wife is killed in a freak accident at a house party his friends conspire to help cover it up. The film's cast is fairly strong, and includes Patrick Wilson, Amy Acker, and Greg Grunberg. However, the dark humor is rather dry and is kind of hit-and-miss. And, the pacing's a little slow, causing the film to drag at times. Still, Let's Kill Ward's Wife is a fun and entertaining oddball comedy that delivers some good laughs.

Surprisingly sweet, given the content.

Scott Foley makes his directorial debut with "Let's Kill Wards' Wife". From the get-go, it's clear each cast member is having a ball of a time being a part of this film. It's so unbelievably dark, but the dialogue is so cleverly written that you can't help but marvel in the way events play out. It's another small cast with a somewhat narrowed set taking place in the house of Donald Faison's character who is the husband to the wretched woman they end up killing. It's been a while since we've seen Dagmara in her days in the Count of Monte Cristo, but within five minutes, you can't help but feel the same way the other characters do about her. It's easy to see how they come to the conclusion to kill her. Having the most fun was Patrick Wilson. These eccentric roles involving dark humor really play right up his alley. The final guy friend, James Carpinello, might have been the least believable of the group, but he stood as the voice of reason throughout all the events. Everyone wishes they had friends as great as this, but in reality, good lord if something like this ever happened and all it took was a Google search to find out how to clean it up without getting caught, I'd fear for society. Oh wait, I guess it sorta can happen this way!
See Details