Let's Make It Legal
(1951)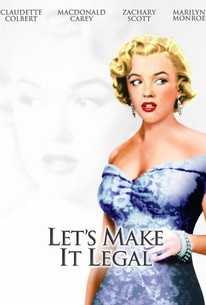 AUDIENCE SCORE
Critic Consensus: No consensus yet.
Let's Make It Legal Videos
Let's Make It Legal Photos
Movie Info
A lightweight comedy about a couple who divorce after twenty years of marriage because the wife is tired of his chronic gambling. When the wife's old boyfriend, now a millionaire, comes back in town, a love triangle sets the complications in motion. Good, solid performances.
Rating:
NR
Genre:
, , ,
Directed By:
Written By:
In Theaters:
On DVD:
Runtime:
Studio:
Twentieth Century Fox Home Entertainment
Audience Reviews for Let's Make It Legal
It's the 50's: everyone is dressed up at work and at home, pitchers of dry martinis are the order of the day, and liberal use of DDT is the best bet for killing aphids on roses. You can't help but smile at some of this stuff. There's nothing terribly amazing about the script in this romantic comedy, which has a couple (Claudette Colbert and Macdonald Carey) divorcing after 20 years of marriage, and a jet-setter and old flame (Zachary Scott) swooping in on her. What's fun is the cast - Colbert is a delight and looks fantastic at age 48, her son-in-law is played by a slender 21-year-old Robert Wagner, and a blonde fortune hunter who appears in a few scenes is played by 25-year-old Marilyn Monroe, right before she became mega-famous. It's light entertainment with a cutesy ending.
Antonius Block
Super Reviewer
It's Not As Though It Could End Any Other Way The thing is, the Code specifically and explicitly said that divorce shouldn't be a subject of humour. Really, Joe Breen would have been happiest if no one had ever acknowledged the existence of such things as divorce in the first place. The American attitude toward it has clearly shifted a lot in the last eighty years. It's true that a daughter might still express disappointment at the idea that her parents are divorcing after over twenty years of marriage, but hardly anyone is really shocked. I think this exact same plot might appear in a modern movie, but it's also true that you could probably get a decent romance out of a woman finally marrying the man she'd been in love with twenty years earlier, and that just wasn't allowed to happen then. The interest in getting through this story is not figuring out how it ends but in discovering the path it takes to get there. At midnight, the divorce between Miriam (Claudette Colbert) and Hugh (Macdonald Carey) Halsworth will become final. Miriam is fine with this, as is their son-in-law, Jerry Denham (Robert Wagner), but Hugh and their daughter, Barbara (Barbara Bates), are not. Hugh frets over his roses and refuses to accept that Miriam won't take him back. Jerry suspects that Barbara just wants her parents together because they pay more attention to her that way. And then Victor Macfarland (Zachary Scott) arrives at the hotel where Hugh and Jerry work. Victor left more than twenty years ago, leaving Miriam to marry Hugh. Now, since Miriam and Hugh are splitting up, he figures he has a chance. Barbara is not okay with this, because Miriam intends to go to Washington to be with Victor, meaning she won't be there to take care of Barbara. And Hugh is upset about his roses. Again, Miriam and Jerry are just fine. Jerry even thinks maybe this will make Barbara grow up and learn to take care of herself. While it's true that the movie doesn't give us much insight into the characters' marriage in the first place, it wouldn't even if we were supposed to think it was a good marriage. Marriage is a mystery from the outside, but light comedies don't even get that complicated. They present you with two people who are married, and you draw your own conclusions. We do eventually find out why Victor left all those years ago, but even as he's toasting her divorce, he doesn't show much real interest in her as a person. Hugh seems inclined to just go back to the same old life, though I imagine he does lean toward kicking Barbara out. It isn't even just that the most chemistry in the movie is a whisper between Claudette Colbert and Robert Wagner. It's that the script doesn't give any of these people anything to work with. Miriam is getting a divorce because she's done being married, but there's no hint as to why she's reached crisis point with his gambling and flirtations now. Oh, yes, and the flirtation. The image Netflix, IMDB, and Rotten Tomatoes all show for this movie is Marilyn Monroe on a yellow background. Doubtless this movie has been sold as part of a Marilyn Monroe box set; it's probably even the same one which comes with [i]Monkey Business[/i], a Cary Grant/Ginger Rogers light comedy. I believe my review for that movie includes a mild complaint that Marilyn Monroe isn't even really in the movie for that long. She plays Cary Grant's secretary and gets maybe fifteen minutes of screentime. However, she gets even less than that here. Her relationship to Hugh is vague, though she's obviously using him as a launching pad for a plot to snare a rich man. She has perhaps a dozen lines, mostly insisting that Hugh introduce her to Victor. Never mind that Claudette Colbert won an Oscar and was nominated for two more while Marilyn Monroe isn't even in the database. (She died before they would have considered an honorary!) She just isn't there in this movie. It's unfair to Claudette Colbert and a con to Monroe fans. Really, the whole movie is kind of a cheat. The title doesn't have much to do with anything. It implies a certain seductive nature which just isn't there. It isn't that Colbert (not even fifty when this movie was made) wasn't lovely. It isn't even that the love triangle is incredibly tame. It's that no one, including Monroe, behaves with any kind of abandon. There doesn't seem to be any evidence that anyone is doing anything illegal. (Extralegal, really, but most people don't even know that word.) I'm certainly not going to claim that people Colbert's age weren't capable of romantic or even passionate relationships. It's just that no one seems even interested. There are steps we have to go through to get from divorce at the beginning to reconciliation at the end, and things are added in an attempt to . . . pad the film? I wish there had ever been any indication that Barbara was actually prepared to grow up, not just try to appease Jerry about it.
Edith Nelson
½
Remember the golden days of the 40's and 50's, with all the drama and frivolity of musicals and comedies. Yeah, this didn't fit into that category at all. A short, petty "comedy" about the eccentricities of divorce, and the beginnings of the lives of newlyweds, there was little to comment on kindly. It was so short the plot had nowhere to develop, the comedy, when someone tried for a laugh, was lacking, and the cast of brilliant stars (Claudette Colbert, Robert Wagner, Marilyn Monroe) weren't given a foot to stand on. Unless you're a diehard Monroe fan, steer clear of this borefest.
Spencer S.
Super Reviewer
Let's Make It Legal Quotes
There are no approved quotes yet for this movie.
Discussion Forum
Discuss Let's Make It Legal on our Movie forum!