Letter From an Unknown Woman
(1948)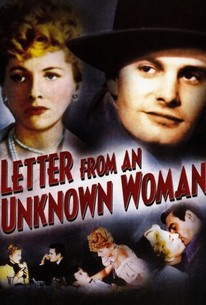 Letter From an Unknown Woman Photos
Movie Info
Perhaps the finest American film from the famed European director Max Ophüls, the film stars Joan Fontaine as a young woman who falls in love with a concert pianist. Set in Vienna in 1900, the story is told in a complex flashback structure as the pianist, Stefan Brand (Louis Jourdan), comes upon a letter written to him by Lisa Berndl (Fontaine), a girl who has been in love with him for years. Stefan is in the process of fleeing Vienna on the eve of fighting a duel. As he prepares himself for the nocturnal journey, the letter arrives. It begins, "By the time you read this letter, I may be dead." As Stefan sits back in his study to read this letter, it turns out to be a confession of unrequited love from Lisa. The story flashes backs to when Lisa was 14 years old and Stefan was her neighbor. After following Stefan with a girlish obsession, the romance gets much more serious, and they have a brief encounter. Stefan promises to come back to her after a concert tour, but he never does. Meanwhile, Lisa marries another man when she discovers that she is pregnant with Stefan's child. When she runs into Stefan years later, he doesn't remember her and tries to seduce her. After Stefan reads the letter, he wants to rush to her side, but now poor Lisa is dying from typhus. ~ Paul Brenner, Rovi
Critic Reviews for Letter From an Unknown Woman
Audience Reviews for Letter From an Unknown Woman
A man receives a letter from a woman he's known, wooed, seduced ... and forgotten. A classic Hollywood melodrama set in romantic old Vienna and handled deftly by director Max Ophuls, who keeps the usual violin chorus down to a discreet tone, allowing for a full feeling of how romance blossoms and then is carried with one. A heady potion for this chick flick about sacrifice, yearning and denial that's as close to fine wine as you'll get. Joan Fontaine and Louis Jordan embody the mood wonderfully.
Kevin M. Williams
Super Reviewer
One of the most heartwrenching melodramas I've seen. I actually had to contain myself from shedding tears, witnessing the passion, intensity and beauty it exudes.
Pierluigi Puccini
Super Reviewer
Very sad, literally could not tear myself away from this one.
Nicki Marie
Super Reviewer
Letter From an Unknown Woman Quotes
There are no approved quotes yet for this movie.