Level Up
(2011)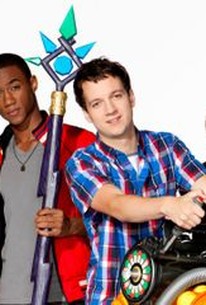 AUDIENCE SCORE
Critic Consensus: No consensus yet.
Movie Info
A trio of teen gamers (Gaelan Connell, Jessie T. Usher, and Connor Del Rio) must save the world from a video-game villain who moves into the real world through a portal that is accidentally opened. A classmate (Aimee Carrero) helps the guys on their mission.
Rating:
NR
Genre:
, , ,
Directed By:
Written By:
On DVD:
Runtime:
Studio:
Alive & Kicking Productions
Critic Reviews for Level Up
There are no critic reviews yet for Level Up. Keep checking Rotten Tomatoes for updates!
Audience Reviews for Level Up
½
Level Up: The Movie is a live-action fantasy comedy made-for-tv movie that aired on Cartoon Network and served as a pilot to the currently airing "Level Up" TV series. The movie revolves around the MMORPG Mandark: The Conqueror of Worlds . Wyatt (Gaelan Connell) plays as Black Death and leads the clan known as Neverfail. Rounding out the team is Dante (Connor Del Rio) as Sir Bickle and Lyle (Jessie Usher) as Wizza. The three of them inadvertently tear down the firewall to allow Mandark to unleash his henchmen into the real world. Now as creatures from the game begin wreaking havoc in their town, it's up to Neverfail to save the world from Mandark's forthcoming domination whether they're up for the task or not. I love Cartoon Network. I really do. Animated films and TV shows will always be a huge part of my life. With that said, I think everybody died a little inside when Cartoon Network started showing live-action programming. But the same argument can be made for MTV never showing music videos anymore. I'm a big supporter of both "Adventure Time" and "Regular Show," but "Level Up" just seemed lame based on its promos. The concept for the movie is pretty solid; a video game villain finding a way to become reality and attempting world domination by sending a rogue's gallery of monsters doesn't sound so bad. Anything that exists in this virtual world has been given a gateway to exist in ours. It's the execution that's the problem. The movie is bogged down by really lame one-liners, corny dialogue, ripped off slogans from video games, TV shows, and movies that you love, and bad acting. The special effects jump back and forth from being semi-decent to really terrible. The lighting effects are pretty spot-on like whenever the portal is opened or whenever Lyle casts a spell. The make-up effects aren't always awful either. Sprague is probably the best looking thing in the movie. But the low budget for the movie is felt more often than not. CG characters don't look so hot in the real world and every one of their weapons looks like a toy bought off of the clearance aisle at Big Lots. The greatest part of the movie is when pop-up ads start jumping into the real world. It's pulled off pretty well and actually feels fairly original. Once you see Mandark in full make-up though and the way he's basically a cheap imitation of Megamind without being blue, it sours anything that may have once been redeemable. Level Up: The Movie is like if "Xena: Warrior Princess" or "Hercules: The Legendary Journeys" fused with The World of Warcraft episode of "South Park" and produced a PG version that was suitable for kids. The effects are mostly very bad, the humor is juvenile, and the acting makes you groan when it's at its best. But I'm also not the demographic Level Up is aimed towards. While it's probably entertaining for kids, Level Up will have adults watching the family pet lick itself as an alternate and more pleasing form of entertainment.
Chris Sawin
Level Up Quotes
There are no approved quotes yet for this movie.