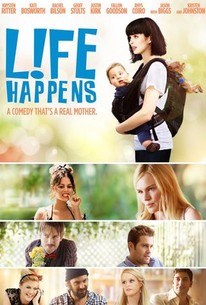 Life Happens
2011, Comedy, 1h 40m
31 Reviews
1,000+ Ratings
Where to watch
Rent/buy
Rent/buy
Rent/buy
Rate And Review
Movie Info
A party-girl's (Krysten Ritter) casual hook-up results in an unplanned pregnancy.
News & Interviews for Life Happens
Audience Reviews for Life Happens
Oh my goodness the low ratings! I honestly wasn't expecting to enjoy this movie as much as I did. It was adorable. Funny. Charming. Sweet. Witty dialog. The entire gambit required for a nice relaxing afternoon chick flick!

I have to admit, I got a little bored with this by the (over cute) end, but I didn't mind this and I think I will watch it again when I'm not as tired as I am at the moment, see if it makes a difference. I liked the trio of Krysten Ritter, Kate Bosworth and Rachel Bilson. Yes, they're all a bit pretty, and Krysten in particular does not look the part of an exhausted single mum, but I liked that they weren't played as perfect, and, ending aside, being a single mum wasn't glorified as being a wonderful thing. Krysten's Kim really struggles here and it isn't all roses. The worst one was the fake Australian ex. His accent was shocking and the phrases cringeable. He also wasn't believable as someone such a beautiful girl would go for. Jason Biggs is barely in this, surprisingly. 2017 rewatch: have upgraded half a star. I enjoyed this movie second time around.

Juggling multiple different storylines, "Life Happens" is saved mostly by an amazing ensemble cast, headed by uber talented Krysten Ritter, brought together by a commanding performances from the lovely Kate Bosworth. Definitely with the makings of an HBO or Showtime based television series, this sometimes lacks the cinematic feel of an actual film, however entertains enough to remain average and somewhat enjoyable.

"I have actually (when I was 20/21) been a roomate to a single mother and a single father. Yep, at the same time. She was my bestie and he was her cousin. Odd little family we were. So I've seen how hard; and I know how hard, it is to be a single parent, being young, and having to work. It's scary. I felt especially bad for Kim. Having no family to count on, I can't imagine. I also felt for her roomies, Deena and Laura. It is not easy being a roomate to someone with kids. You can't be free to do whatever whenever when you share a house with kids. Although they (the parents) had to grow up fast, it also makes you grow up right with them. Kim is a single mom just trying to do her best and feeling trapped while everyone around her is moving forward. The story iteself was OK. I liked the characters. I thought the acting was good and the movie had it's funny moments. The movie is basically about making choices, dealing with the consequences, and in the end, growing up and moving on. Not sure if it's a movie I would watch again. But not one I would turn off if I seen it playing on T.V. Worth seeing at least once."
See Details