Life
(2017)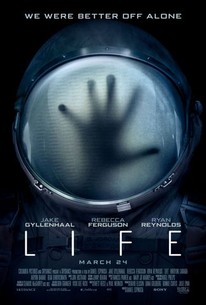 TOMATOMETER
AUDIENCE SCORE
Critic Consensus: Life is just thrilling, well-acted, and capably filmed enough to overcome an overall inability to add new wrinkles to the trapped-in-space genre.
Movie Info
Life tells the story of the six-member crew of the International Space Station that is on the cutting edge of one of the most important discoveries in human history: the first evidence of extraterrestrial life on Mars. As the crew begins to conduct research, their methods end up having unintended consequences and the life form proves more intelligent than anyone ever expected.
News & Interviews for Life
Audience Reviews for Life
½
It seems as though the science fiction genre has run its course nowadays. Aside from Ridley Scott returning to the Alien franchise or great thought-provoking films like Arrival every now and then, this particular genre doesn't seem to be in high demand anymore, which is a shame. I'm not including Star Wars or Star Trek, because those are large franchises that will never go away. There are some fantastic stories that can be explored deep in outer space, but studios choose to instead purchase romantic comedies or horror flicks, because that is what best suits date night. If studios rely on that forever, ignoring films like Life, I believe the future of cinema is in trouble, more so than it already is. People beg for original content. Life is an original piece of film, yet it's bombing at the box office. The saddest part is that it's a solid little sci-fi flick. Here is why I believe Life should be seen in theatres by anyone who is a fan of this genre. It will be impossible not to make comparisons to the original Alien film, due to the fact that the central plot is very similar. As a crew leaves a planet, bringing a newly discovered life form on board, they soon begin to discover that it needs to feed off of other life in order for itself to survive. Beginning to pick off the crew one-by-one, this life form is not afraid to become a living nightmare for them. In a way, this film can be predicted for the most part, but there are a few twists toward the end of the film that I found to be quite effective. If you are looking for a solid time at the movies, including some tense moments and an exciting overall story, I don't think you'll be disappointed with Life. Adding talented actors and actresses is always a plus when trying to sell your film, but when every single core cast member are all faces you recognize and giving it their all, you can't help but feel sucked into these characters and become slightly emotional when they do. Each one of these cast members deliver very sincere performances and never once did it feel like someone was overdoing it. The terror in their eyes felt very real and during the death of certain characters, I truly felt for the rest of the crew when they wept. They are all given just enough backstory to care about each of them and they do share a few great moments together. As far as performances and characters go, Life delivers. The effects of the creature aside (which are passable), the cinematography and visuals throughout this film were all magnificently done. For a film with a lower budget than most sci-fi films, there was a lot to gander at here. From the very opening scene, I was pretty blown away from what they were able to accomplish with their budget. From no gravity, the ship itself, to the overall look of space, I found myself completely buying into the fact that they just filmed this in space. Obviously the didn't, but when a film can immerse me like that, I have to give it props for that. Written by the writers behind films like Zombieland and G.I. Joe: Retaliation, there are many aspects that feel sloppy, as far as dialogue goes. There are some terrific moments between characters, and others that just feel cliched and thrown in there. In the end, I really enjoyed the way director Daniel Espinosa (of Safe House fame) helmed this picture. His vision was clearly put on-screen in the best way possible. From beginning to end, you will either be sucked in for the ride or find yourself not caring, which is why I believe this film is receiving critically mixed reviews. For myself, I was entertained for the full 106 minutes. I definitely recommend this film to horror and sci-fi junkies alike. Truthfully, you've seen in all before, more than once, but on its own, Life is a solid little creature-feature in space. Worth the price of admission.
½
Life is an intense, heart-pounding saga that never lets up. The production design is dazzling. The opening scene, an uninterrupted nearly 7-minute take, is a marvel. The ISS set is constructed like a labyrinth and it's easy to feel claustrophobic within. That adds to the tension as I was riveted throughout. Screenwriters Paul Wernick and Rhett Reese have worked together before (Zombieland, G.I. Joe: Retaliation, Deadpool). The script gives us just enough detailed jargon to seem cerebral but without getting bogged down in a lot of intellectual mumbo jumbo. They have a sophisticated take on this outer space thriller that really elevates the presentation into something classy. I mean let's be clear. At heart, this is a formula sci-fi horror tale and nothing more. Don't go in expecting to have your mind expanded. Nevertheless, it is nice to see something that isn't part of some larger franchise. The action entertains a lot better than some warmed over reboot or sequel. Life is worth living....er uh I mean watching. fastfilmreviews.com
Mark Hobin
Super Reviewer
Just watched "Life" Don't let the hype and the star cast fool you. all you're in for is lazy acting and a predictable plot cloned from "alien" and "gravity". Some people may find it thrilling. But I found my self bored, lost and angry half the time. It's one of those movies your curiosity would drive you to get through. But in the end. You'll wish you didn't waste the time.
Shawn Montague
Super Reviewer
Life Quotes
There are no approved quotes yet for this movie.
Discussion Forum
Discuss Life on our Movie forum!