Life
(2017)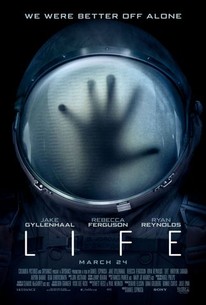 TOMATOMETER
AUDIENCE SCORE
Critic Consensus: Life is just thrilling, well-acted, and capably filmed enough to overcome an overall inability to add new wrinkles to the trapped-in-space genre.
Movie Info
Life tells the story of the six-member crew of the International Space Station that is on the cutting edge of one of the most important discoveries in human history: the first evidence of extraterrestrial life on Mars. As the crew begins to conduct research, their methods end up having unintended consequences and the life form proves more intelligent than anyone ever expected.
News & Interviews for Life
Audience Reviews for Life
½
Don't let the star power blind you, Daniel Espinosa's first attempt to escape his crime drama roots should have been aborted. This is no real surprise as he has roundly demonstrated himself to be a hack with arguably one fluke of a good movie: "Snabba Cash". However, Ryan Reynolds and Jake Gyllenhaal have to enjoy making films with him, perhaps because they obviously have a lot of fun behind the scenes (as their press junket would suggest). On board the film's International Space Station, this translates to a bunch of banter that does little to characterize the astronauts, but it certainly evokes the initial atmosphere of a film that "Life" is unabashedly ripping off: "Alien". As the trailer would suggest, the life form that they resurrect from the Martian soil sample is a threat to them all and the Earth. Everything goes as you would expect in that situation unless you've never seen that classic film, "The Thing", "The Blob", or "Apollo 13". If you were expecting any sort of interpersonal, psychological thrills, forget about it. This is what happens when you turn "Gravity" into a B-movie creature-feature. It blows my mind that they obviously put a lot of work into accurately capturing the zero gravity environment and scientifically sound intricacies of space exploration in service of such a hackneyed plot. Much like "Avatar", it looks cool, but there's nothing underneath the surface to give a damn about. Even with the plot contrivances and the hokey characterizations, the performances are surprisingly laughable at times. It all adds up to sci-fi that is too schlock to inspire awe and too silly to horrify. The scariest thing about it is that, in typical B-movie fashion, it sets itself up for a sequel.
K Nife Churchkey
Super Reviewer
½
Don't give Life so many love. It doesn't need any love. This film doesn't have any life put to it either. All there is to it is just nothing interesting. Just your average science fiction film with no effort put to it. This film is indeed watchable, but it can't be loved unless your opinion differs.
EpicLadySponge the Adventurer
Super Reviewer
½
If the Alien franchise never existed, 'Life' may be considered a groundbreaking movie in the sci-fi genre, but obviously that's not the case. The good thing is, 'Life' doesn't hide the fact that it's clearly inspired by the original Alien film. Because it's extremely well-acted, paced, shot, and structured, the similarities don't really matter. 'Life' is just a heck of a thrilling time at the movies. I can appreciate original science fiction as much as the next guy, but when you have a film that is as entertaining from start to finish as 'Life', I don't need every scene to be something out of 2001: A Space Odyssey. 'Life' stars Rebecca Ferguson, Ryan Reynolds, Jake Gyllenhaal, Hiroyuki Sanada, Olga Dihovichnaya, and Ariyon Bakare; written by Rhett Reese and Paul Wernick (same guys who did Deadpool); and directed by Daniel Espinosa. There's nothing overtly new or refreshing with any aspect of 'Life', but at the same time, the film fires on all cylinders. At a brisk run-time of 103 minutes, 'Life' never slows down. It reminded me a lot of 2013's Gravity in that way. The only time these films stopped to breathe was to add subtle but vital character depth to the story. Scene after scene is filled with terror, intrigue, and impressively shot action. It doesn't have the polished cinematography that the aforementioned Gravity or Interstellar does, but what films do? Life succeeds in nicely timed long takes, shocking deaths, and a terrifying creature named Calvin, but it doesn't always nail the emotionally gripping sequences. However, what struck me most was the film's intelligence. All of the characters acted exactly how I would imagine these particular people would act in real life. Although some choices could be perceived as illogical, you have to put yourself in their shoes. Having an extremely dangerous life form trapped on your spacecraft isn't the most ideal situation, after all. With stellar performances from the entire lead cast and it's single celled antagonist, 'Life' is one of the best films of the year thus far. Shocking, gruesome, and relentless, 'Life' manages to avoid falling into the forgettable sci-fi territory. It's better than I could have hoped this Alien knockoff would have been. If everything goes accordingly, we will have two great Alien films this year. +Great cast +The best Alien film since 1986 +Relentless tension -Doesn't pack enough emotional punch 9.2/10
Thomas Drufke
Super Reviewer
Life Quotes
There are no approved quotes yet for this movie.
Discussion Forum
Discuss Life on our Movie forum!