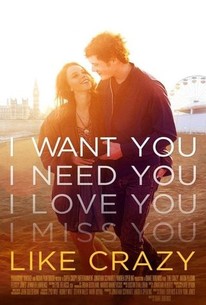 Like Crazy
2011, Drama/Romance, 1h 29m
155 Reviews
10,000+ Ratings
What to know
critics consensus
It has the schmaltzy trappings of my romantic films, but Like Crazy allows its characters to express themselves beyond dialogue, crafting a true, intimate study. Read critic reviews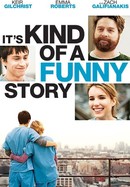 It's Kind of a Funny Story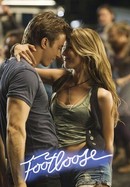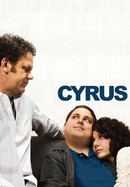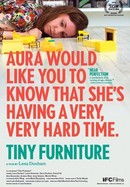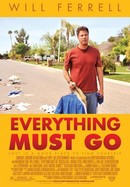 Where to watch
Rent/buy
Rent/buy
Rent/buy
Rate And Review
Movie Info
While attending college in Los Angeles, Jacob (Anton Yelchin), an American, and Anna (Felicity Jones), who hails from London, fall madly in love. However, the young lovers are forced apart when Anna violates the terms of her visa and must return to England. Jacob and Anna discover the difficulties of maintaining a long-distance relationship in the face of their changing lives. Yet, no matter how often circumstances pull them apart, they always find themselves back together again.
News & Interviews for Like Crazy
Audience Reviews for Like Crazy
Wanted to like this, but it just felt like a real nothing movie. I didn't buy the attraction between the pair, which I guess is a major problem for this genre. I didn't really care if they got together or not. To me, they were both cheaters anyhow, so can't have been too madly in love.

It drags at times, but ultimately the film avoids romance-movie clichés with its excellent acting and interesting plot. The pacing is mostly done well, and I enjoyed the cinematography and the film editing. It's not an entirely memorable film, but it charms despite its obvious flaws.

I feel that this movie is not for everyone. It happens you know, sometimes a movie is not all about entertainment or forum to express or explore ideas, sometimes a movie can be a film without a story. Like Crazy explores the journey between two young person who met and fall in love instantly during their university years but faced trouble when the girl, who is a UK citizen, got deported back to her country. The movie then continues with their fall about, patching up, breaking up and a very absurd ending, which some will hate, but for the other, like me, will be satisfied with it and ending up giving it a positive review. PS: Choosing Canadian band, Stars' Dead Hearts as their soundtrack was a brilliant choice. 7.8/10.

Immigration issues and infidelity upset the love of two twenty-somethings. In today's dating climate, things are far more fluid than in times past, and this film captures that fluidity. Whereas films like <i>Love Story</i> and <i>The Way We Were</i> occupy themselves with only the lives of two people and their elliptical orbits around each other, today we often add other people -- other moons -- that interfere with the primary relationship. This is as true in life as it is in this fine film. Strong performances by Anton Yelchin and Felicity Jones carry the film, and supporting roles, most notably by Jennifer Lawrence, complement the two leads nicely. There aren't any great, memorable scenes, but the film captures the feeling of this relationship well, and I found myself enjoying getting to know these characters. The story and its central conflict are less compelling than the performances. Immigration issues are real-world problems, and I'm sure that those who experience them find great difficulty, but the don't compel as a central conflict for a film. Also, I found that the film dragged here and there, particularly when the leads were apart. Overall, this is a strong film for this era, but it's not as transcendent as one might hope.
See Details