Like Water for Chocolate (Como Agua para Chocolate)
(1992)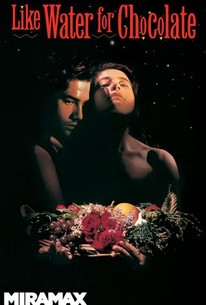 Like Water for Chocolate (Como Agua para Chocolate) Photos
Movie Info
Based on the best-selling novel by Laura Esquival, this internationally popular romantic fable from Mexico centers on a young woman who discovers that her cooking has magical effects. The tale's heroine, Tita, is the youngest of three daughters in a traditional Mexican family. Bound by tradition to remain unmarried while caring for her aging mother, Tita nevertheless falls in love with a handsome young man named Pedro. Pedro returns her affection, but he cannot overcome her family's disapproval, and he instead marries Tita's elder sister. The lovestruck young woman is brutally disappointed, and her sadness has such force that it infects her cooking: all who eat it her feel her heartbreak with the same intensity. This newly discovered power continues to manifest itself after the wedding, as Tita and Pedro, overcome by their denied love, embark on a secret affair. Director Alfonso Arau, Esquival's husband at the time, presents the acts of love and cooking with the same glossy, sensual sheen. Indeed, despite occasional digressions into a magical realist tone, the film often takes on the gloss of Hollywood romance. This combination of traditional melodrama and exotic fairy tale proved extremely popular with audiences, particularly in the United States, where it became one of the highest grossing foreign language films at the time. ~ Judd Blaise, Rovi
News & Interviews for Like Water for Chocolate (Como Agua para Chocolate)
Critic Reviews for Like Water for Chocolate (Como Agua para Chocolate)
Audience Reviews for Like Water for Chocolate (Como Agua para Chocolate)
A young woman is forbidden to marry the man she loves by her domineering mother. Mamá Elena insists Tita de la Garza honor a timeworn tradition which dictates the youngest daughter must not marry so she may care for her aging mother instead. Established Mexican character actor Alfonso Arau (The Wild Bunch, Romancing the Stone) directs this adaptation of Laura Esquivel's debut novel. The two were married at the time. The title comes from a Latin American expression. In these countries, hot chocolate is made with water instead of milk. The phrase refers to someone who has reached their boiling point, in this case it could refer to anger, but also repressed sexuality. Tita is like water ready to be used for hot chocolate. What makes the picture so compelling is the appeal of our central heroine. Actress Lumi Cavazos is gripping as Tita. By keeping her emotions bottled up, her meals are essentially the only way she has to express herself. On the surface she seems passive at first, but she remains a fundamentally passionate individual. Her story is rather epic in scope and the many people that she meets along the way are involving. The relationships with her overbearing mother and her true love Pedro, are affecting but so is her relationship with Dr. Brown, her sister's obstetrician. If there's one thing a romance needs is heart and Like Water for Chocolate has that in spades.
Mark Hobin
Super Reviewer
½
I thought the book was better...
Jennifer D
Super Reviewer
½
I was recommended to watch this by a friend who had studied the book. I didn't really like it despite knowing so much about the main storyline (or perhaps because of it). I couldn't really get past how much of a stone-cold bitch the mother was, and I didn't really like the ending either. I'd seen the 'food affected by feelings of the cook' premise before in an American film (Simply Irresistible), which despite being utterly frivolous in comparison I think I prefer.
Like Water for Chocolate (Como Agua para Chocolate) Quotes
There are no approved quotes yet for this movie.