Little Birds
(2012)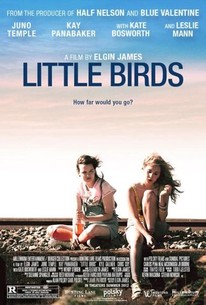 Movie Info
Fifteen-year-old Lily and her best friend, Alison, live on the shores of the Salton Sea. Sprinting toward adulthood, Lily wants to escape her depressing hometown. But Alison is content with her life; she enjoys being sheltered from the uncertainty of growing up. When the girls meet three street kids, Lily convinces Alison to follow the boys to Los Angeles. Thrust into a world of excitement and danger, the girls must decide how far they are willing to go to get what they want. -- (C) Official Site
News & Interviews for Little Birds
Critic Reviews for Little Birds
Audience Reviews for Little Birds
½
As far as cautionary tales go, "Little Birds" is a dull, dreary, illogical, drawn out and predictable one with Juno Temple playing Lily, at this rate the kind of infantile woman she will be playing well into her fifties. Lily is bored at the lack of anything in the small town she lives in with her best friend Alison(Kay Panabaker). All of which could have easily been established in the five minutes it takes to walk across it, instead of the movie being half over before any kind of plot kicks in. That involves the visit of some boys from Los Angeles. And in one of the movie's only highlights, you can see the look of bliss on Lily's face after the ritual of exchanging clothing and phone numbers between her and one of the boys has been completed. So taken is she that she then tries to persuade Alison to drive them all the way to Los Angeles. Alison is so loyal to her friend that she does not yet recognize that they are heading in much different directions, much less that Lily is a train wreck, having almost literally caused one earlier and otherwise antagonizing everybody else in a thirty mile radius. Oh well.
½
A fresh and harsh-reality look at a coming of age story, involving two young girls, Elgin James' "Little Birds" brings Juno Temple and Kay Panabaker together for some of the best young woman acting since "My Girl". Temple plays wild child Lily, who lives in the Salton Sea, dreaming of drowning herself, cutting herself, and running off to Los Angeles with her homeless boyfriend, Jesse (Kyle Gallner). Panabaker plays the quite opposite, Alison, who rides horses, knows how to shoot a gun, and loves her quiet mannered father. When Lily is threatened by another girl, she talks Alison into driving her to the City of Angels, where they shack up with three homeless boys and adhere to wrecking havoc on the streets of L.A., stealing laptops and luring pedophiles into their abandoned hotel to steal their wallets and then blackmailing them. Temple is pristine in this role, having the perfect look to match her anarchist behavior, while Panabaker couldn't be more perfect for her role as well, radiating an innocence and naivete that rivals the best in any similar performance. Although slightly predictable in story, "Little Birds" flows nicely, engaging the audience while the girls steal the show.
Christopher Haskell
Super Reviewer
"Little Birds is a film about a teen named Lily that is desperate to escape her small town and the baggage it brings with it. She is itching for freedom from her boring life. When Lily and her best friend, Alison stumble upon three street kids and one invites Lily to join them back home, they decide to see how far some freedom will take them. Alison is quite comfortable in her life, but she is in some way desperate to please Lily so she does what she can to make their friendship survive. Even if that means stealing her bosses truck to help Lily escape for awhile. Juno Temple is fastly becoming a favorite of mine. She is fearless in the roles she takes. I admire that in an actress/actor. It was my first time (I think) seeing Kay Panabaker in a movie. I think she's great. Her and Temple really worked well together. Everyone else does a good job in this as well. I would have liked if there was a little bit more story to these young ladies past. All in all a good indie flick."
♥˩ƳИИ ƜѲѲƉƧ♥
Super Reviewer
Little Birds Quotes
| | |
| --- | --- |
| Alison Hoffman: | You only get a little time between a cut and knowing how deep it is. If it's only going to be nicked, or disfigured forever. All you can do is try to stretch out that moment for as long as you possibly can. 'Cause once you know, there ain't no coming back. |
| Alison Hoffman: | You only get a little time between a cut and knowing how deep it is. If it's only going to be nicked or disfigured forever, all you can do is try to stretch out that moment for as long as you possibly can cause once you know, there ain't no coming back. |
| | |
| --- | --- |
| Lily Hobart: | I like your eyes |
| | |
| --- | --- |
| Lily Hobart: | I figured it out... we can take Hogan's truck to LA! |
| | |
| --- | --- |
| Margaret Hobart: | You need to talk to someone kido. |