Little Fugitive
(1953)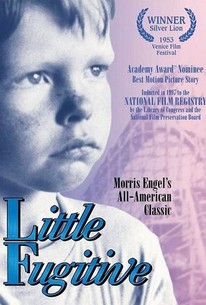 Movie Info
A boy from Brooklyn, wrongly led to believe that he killed another child with his rifle by an 'ornery older brother, flees to the fantasy and fun of Coney Island to escape in this all-but forgotten drama that proves that big budgets and studios are not always needed to create a memorable, internationally distinguished gem. The story remains most notable for its offbeat treating of the child not as an adorable Hollywood moppet, but as a real little boy, simultaneously afraid that he really hurt someone, and thrilled to be alone in the famed amusement park.
Critic Reviews for Little Fugitive
Audience Reviews for Little Fugitive
½
As twilight descends on coney island, you can almost taste the salt water air and feel the cool ocean breeze on your cheek. The movie is less a character study and more a day in the life of a boy at a very specific time and place. Rather than a plot taking us along to it's pre-determined destination, things merely happen, and we bear silent witness to it. It's a simple story of two brothers, maybe aged 6 and 11, and the older brother tricks the younger into thinking he's killed him, thus sending the younger brother on the run. He goes to Coney island, and spends a couple of days on the beach and on the boardwalk, drowning his sorrow in junk food and pony rides. Directed by Morris Engel and Ray Ashley, the film has all the quality of an artistic (not artsy-fartsy) documentary, there's very little in the way of script of plot, it's basically an exercise in film and subject matter. And yet, somewhere in the midst of all this artistic vision, a tender story comes out and forms a touching image. It's almost impossible not to see this as a real life story, and it's also almost impossible not to fall in love with the little boy. The charm of this document and it's by-gone era lies with the people it photographs, and as a snapshot of Coney Island and New York, it's almost a love letter.
Devon Bott
Super Reviewer
½
the very first american indie. remarkably natural performance from the kid. a low budget documentary style snapshot of a more innocent time and a big influence on truffaut's 400 blows
Stella Dallas
Super Reviewer
No frills look at kids growing up in 1950's New York City. The unpolished style adds to its charm and ambiance.
Randy Tippy
Super Reviewer
Little Fugitive Quotes
There are no approved quotes yet for this movie.