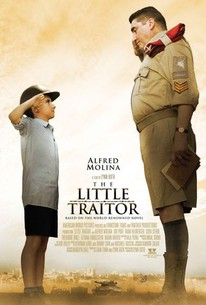 The Little Traitor
2007, Drama, 1h 29m
22 Reviews
1,000+ Ratings
Where to watch
Subscription
Rate And Review
The Little Traitor Photos
Movie Info
During the British occupation of Palestine, an Israeli youth's friendship with a British soldier (Alfred Molina) lands him in trouble with town officials.
News & Interviews for The Little Traitor
Audience Reviews for The Little Traitor
Heartwarming. Charming...an excellent, well written movie. The actors were chosen very well for their parts, and they did a really great job. Nice little history lesson in this, too. An ending that made me teary eyed. What more can you ask for?...

A Palestinian Jew "betrays" his community by forming a friendship with British officer in 1947. The friendship between Sergeant Dunlop and Proffy, played by Alfred Molina and Ido Port respectively, is charming and endearing, and Molina plays the genial father perfectly. As a whole, though, the film has several flaws. Like many Western films about Israel and Palestine, <i>The Little Traitor</i> elides Palestinian Arabs and Muslims from the conversation, condemning them to roles like good-natured merchants with a minute of screen time and a lip-service mention in the film's final moments. It's revisionist history in its worst form, and to suggest that Jews were the only victims of British occupation is myopic and irresponsible. Despite these political concerns, I think director Lynn Roth is less concerned with Zionist politics, which are certainly depicted, and most concerned with a human coming-of-age tale. Even in this, the film fails because of Ido Port's stoic, bland performance. Molina carries their scenes together, but the child actor's reaction shots might as well be an impromptu photograph of Port watching grass grow. Overall, even with Port's poor performance, I found myself thinking that the film - even with its historical amnesia - has its heart in the right place, believing that the way to dispel colonization's violence is through personal friendships rather than political violence; if only Roth had applied the same view to present-day issues in which Proffy and Dunlop's roles are reversed.

Fantastic job by the young <a href="http://www.flixster.com/celebrity/ido-port/">Ido Port</a>.

a little charmer of a coming-of-age piece about a jewish boy in british occupied palestine (soon to be israel ...soon to be israel / palestine ... soon to be ... oh hell, you already know!) before the 1948 liberation. great if your want to see jerusalem and indulge in a little cultural splurge.
See Details