Little Witches
(1996)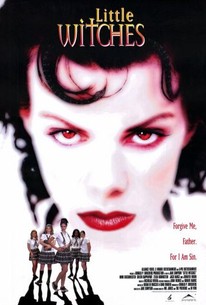 AUDIENCE SCORE
Critic Consensus: No consensus yet.
Movie Info
A low-budget knockoff of The Craft, this tame horror outing centers around a group of Catholic girls at a remote convent run by a cast of veterans including Jack Nance, Zelda Rubinstein, and a miscast Jennifer Rubin. The girls are the usual variegated lot from Central Casting, who discover a book of incantations to summon a fertility god at a secret baptistry next door. The girls are quickly drawn into the book's spell, and only Faith, a nerdy construction worker, and a mysterious Guardian can prevent all Hell from breaking loose. The problem is that "all Hell" never does break loose. Viewers do get to see a cheesy monster-puppet made by Gabe Bartalos, but only for a few seconds. They also get to see naked Catholic schoolgirls performing dark rituals, but only in long-shot. The only real exploitation highlights that can't be seen in The Craft are Nance's nifty death scene (involving many fish-hooks) and a naked dance by Sheeri Rappaport.
Critic Reviews for Little Witches
Audience Reviews for Little Witches
i was expecting something like the craft.. not bad but also not so good..
Little Witches Quotes
There are no approved quotes yet for this movie.