Lobos de Arga (Party of Wolves) (Game of Werewolves)
(2012)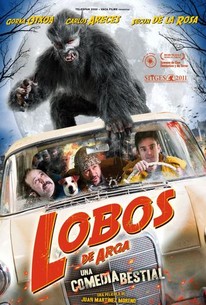 AUDIENCE SCORE
Critic Consensus: No consensus yet.
Lobos de Arga (Party of Wolves) (Game of Werewolves) Photos
Movie Info
After 15 years, Tomas, a not very succesfull writer, comes back to the village in Galicia where his family comes from, Arga, apparently to get an award. But he doesn't know the real reason why he is there, to end with an old curse that is been haunting the village for the last hundred years.
Critic Reviews for Lobos de Arga (Party of Wolves) (Game of Werewolves)
All Critics (2) | Fresh (2) | Rotten (0)
Though more funny than frightening, this movie is an enjoyable throwback with modern twists.
At the heart of Attack Of The Werewolves there may be modern compunctions about Spain's 20th-century heritage, and urban anxieties about countryside atavism, but Moreno's film is too busy pursuing comedy to get much weighed down by any of this.
Audience Reviews for Lobos de Arga (Party of Wolves) (Game of Werewolves)
Comedy is a genre I rarely ever touch upon with my reviews and the same goes with covering Spanish movies despite viewing quite a few of them. Out of all the Spanish movies I've seen this is the least impressive one I've seen yet. Game of Werewolves (Lobos de Arga) is about Tomas returning to his village of Galicia in 15 years to seek inspiration for his next novel. While in Galicia Tomas must get rid off a 100 year old curse in a village fill with people that want him dead. The pacing is a mess. It doesn't know if wants to be a horror, a comedy, or both. Switching between two genre creates an inconsistent tone. The humor aspect is okay since some jokes here are funny. Even if the jokes fail you know it was meant to be a joke unlike the horror aspect. The horror aspect was weak. Whenever the film had a setup for a scare or two it inserts a joke. These jokes are either hit or miss. This distracts from the horror scenes for you don't know if something is meant to be funny or be scaring. The film lacks logic in certain scenes. It might sound dumb complaining about logic in a movie that has werewolves, but there's no way pistol could blow up two cars that are in perfect condition without any flammable object around them. The plot in general is okay moving nicely never dragging a certain scene and do go into detail about the curse. The film is confused on what it wants to be and so will the audience on how to react to something. The acting was good. The actors did well when it came to comedy. They had good timing and chemistry to make the jokes work. When it becomes a horror is where the actors don't do well. It's mostly bad writing and a inconsistent tone that hurts the actor unsure delivery. The actors do what they can with the material given to them. The practical effects are a nice touch for the transformations. It might not look convincing, but at least your mind won't remind you it's a CG effect. The costumes look more on the lines of sandsquatch than werewolves. I don't know about you, but I expect werewolves to have tails since they are part wolf. The werewolves are killed too easily. It's mostly of limited budget though the effort is their and the director does make good use of them for some humorous jokes. Production wise it's a decent effort on a small budget and limited resources. Lobos de Arga (Games of Werewolves) does not know what kind of film it wants to be all the times, but when its focus it passes as decent entertainment. This is the kind of film that's good for a rainy day and is not the kind of film you should go out of your way to find.
Caesar Mendez
Super Reviewer
Lobos de Arga (Party of Wolves) (Game of Werewolves) Quotes
There are no approved quotes yet for this movie.