London Boulevard
(2011)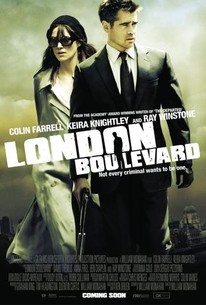 TOMATOMETER
AUDIENCE SCORE
Critic Consensus: In spite of its spotless pedigree and a strong sense of visual style, London Boulevard stumbles over its frenetic pace and crowded, clichéd plot.
Movie Info
The directorial debut of William Monahan, the screenwriter of The Departed, London Boulevard follows an ex-con trying to make a fresh start in a relationship with a reclusive actress. A sexy, stylish gangster thriller bristling with wit and brutal intrigue, London Boulevard stars Colin Farrell and Keira Knightley as star-crossed lovers who run afoul of one of London's most vicious crime bosses. -- (C) IFC
People Who Like this movie also like
News & Interviews for London Boulevard
Critic Reviews for London Boulevard
Audience Reviews for London Boulevard
Geez, not only is this movie incomprehensible, but it's not worth comprehending. It is boring me out of my skull at 48 minutes in. But then it's Colin Farrell AND Keira Knightley -- with the affected "e" before the "y." So, in fact, only an idiot would rent this -- which must be me.
Lanning : )
Super Reviewer
I genuinly did not understand this movie! It was the most confused and poorly written script that just lacked everything! You have some of the best names in the business and the reason as to why they would participate in such a poorly written and directed movie is beyond me! Wouldnt waste my time watching!
Film Crazy
Super Reviewer
Oscar winning screenwriter William Monahan (The Departed) decides to take a spin in the director's chair, and the result is London Boulevard, a slick and stylish British crime thriller (with a fair amount of humor) about a recently paroled convict named Mitchel who tries to go straight. The only honest living he can find for himself is working as a bodyguard and handyman for a recluaive actress and painter named Charlotte...whom he also begins a romance with. Things start off well enough for him, but the pressures of both his wild friend Billy and the offers of a top mob figure named Gant make it really hard for Mitchel to settle down. Taking cues from a few other directors, namely Scorsese, Monahan delivers up a fun and entertaining little film filled with common elements from criem cinema, such as witty banter, cool cinematography and editing, and some fantastic needle drops. It's a fun and well meaning film, just not all that original. As a first time director, he does well enough I suppose, but overall there's nothing all that distinguishable about this film. The cast are fine, and they give some decent performances, though there's not much chemistry between Farrell and Knightley. David Thewlis steals the show as Charlotte's handler Jordan, and he's probably the best part of the film. Clearly he should have been the focus. Ray Winstone of course is awesome and menacing, and he helps the film, but it's too bad the script is kinda muddled and doesn't add up to much. I'm a sucker for cool music and camera work and that sort of thing, and even though that stuff works decently here, it's not enough for me to bump this up a notch, even though the younger less cinematically educated me would have given this a really high score. All in all, an okay film, but not what it could be.
Chris Weber
Super Reviewer
London Boulevard Quotes
| | |
| --- | --- |
| Dr. Raju: | i would like to see your sister mitchel with your permission |
| Dr. Raju: | I would like to see your sister Mitchell with your permission. |
| Mitchel: | Sanjay, it's a free country ! |
| Mitchel: | Sanjay, it's a free country! |
| | |
| --- | --- |
| Mitchel: | You don't want me to be a gangster. Nobody want's me to be a gangster, 'cause I could not stop if I started. |
| Mitchel: | You'd be the first to die. |
| | |
| --- | --- |
| Charlotte: | If I fell in love with you, what would you do about it? |
| Mitchel: | Everything. |