The Long Day Closes
(1992)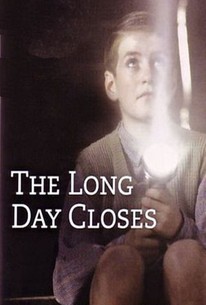 The Long Day Closes Photos
Movie Info
Terence Davies' blissful, evocative and non-narrative follow-up to his Distant Voices, Still Lives follows a few months in the life of 12-year-old Bud (Leigh McCormack), in impressionistic snatches of his everyday existence growing up in the Liverpool of 1956. Bud's world is influenced by his mother (Marjorie Yates), his older sister Helen (Ayse Owens), and his older brothers John (Nicholas Lamont) and Kevin (Anthony Watson). Bud is a lonely and quiet child whose moments of solace occur when he sits in rapture at the local cinema, watching towering and iconic figures on the movie screen. The movies give Bud the strength to get through another day as he deals with his oppressive school environment and his burgeoning homosexuality.
Critic Reviews for The Long Day Closes
Audience Reviews for The Long Day Closes
a lyrical ode to a boy's love for cinema, incorporating songs from the 50s and dialogue from classic hollywood films. it's a unique approach, rendering an impression of memories rather than a straight narrative structure. very well done
Stella Dallas
Super Reviewer
Wasn't that big of a fan of Distant Voices, Still Lives but I liked this look at Bud. Interesting issues of growing up gay in an intolerant time.
John Ballantine
Super Reviewer
If you see poetry as a way of looking at life- a particular awareness or appreciation perhaps- then this film is about as close as you can get to a representation of poetry on film (along with Davies earlier- and quite similar biographical film- 'Distant Voices, Still Lives'). Memory sometimes reduces things into metonymy, and this could be used to explain the beautiful simplicity of the visuals- usually emphasising a certain aspect of living- time passing, light hitting a surface etc... bringing it out of obscurity and making the viewer focus singularly on that aspect... which is why this film could be labelled transcendental. Things that pass, or are taken for granted in everyday life transcend themselves in this film. If you have enjoyed this film I would strongly recommend that you see 'Distant Voices, Still Lives' as well as the great works of directors such as Robert Bresson and Andrei Tarkovsky- examples of other directors whose gaze turns life into poetry. Was the above review useful to you?
Cassandra Maples
Super Reviewer
The Long Day Closes Quotes
There are no approved quotes yet for this movie.