Loot
(2009)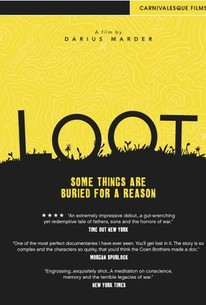 Movie Info
Loot is a feature-length Documentary that follows two WWII veterans and their guide across the globe in search of their buried wartime treasures.During WWII, Darrel was stationed in Europe. Andrew was fighting in the Philippines. In the chaos of combat, each stole valuable treasures and hid them overseas before returning to civilian life in America. Sixty years later, back in America, neither man seems remorseful about their war crimes. Both want to recover the treasures they perceive as their own. They don't know each other but they both happen to know Lance, an inventor, used-car salesman, and amateur treasure-hunter, who, against all odds and better judgment, attempts to help them find their lost looted goods.Loot was shot on three different continents over the course of two and a half years. It is a story about fathers, sons and war, and how the secrets of history bleed into the present as three characters come unwittingly to a place where they must choose to face a truth or to bury it forever. --© Official Site
News & Interviews for Loot
Audience Reviews for Loot
½
"Loot" is a documentary wherein self-professed treasure hunter Lance Larson seeks to help two World War II veterans locate long lost caches of valuables they left behind. For Darrel Ross, it involves stolen jewelry in Austria whose search is complicated by his blindness. For Andrew Seventy, it is a cache of samurai swords and other goodies in the Philippines that is complicated by his being a pack rat and faulty memory. And there is a possibly fascinating documentary to be made from this material and sadly "Loot" is not it. Even compared to the reportedly loose standards of reality television, this is amateurish both in how it is edited and filmed.(Admittedly, Utah does look like a nice place to live with its mountains and In n Out burgers.) The movie is less interested in the former soldiers than with Lance who seems particularly unequipped for his chosen task, especially when it comes to other languages. The only valid point made in the whole documentary is about World War II soldiers not all being boy scouts; not a surprise considering how things can get muddled in wartime. Otherwise, I'm glad if Lance found out what is truly valuable in his life, without having to buy a psychologist a home in the Hamptons.
Loot Quotes
There are no approved quotes yet for this movie.
Discussion Forum
Discuss Loot on our Movie forum!