Lord Protector: The Riddle of the Chosen
(1997)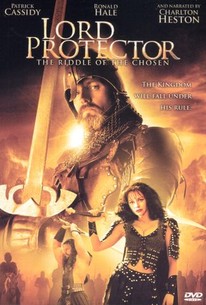 AUDIENCE SCORE
Critic Consensus: No consensus yet.
Lord Protector: The Riddle of the Chosen Photos
Movie Info
With the future of the world hanging in the balance, one fearless hero's quest to solve "The Riddle of the Chosen" leads to the adventure of a lifetime in this effort from Ryan Carroll -- the executive producer of such horror hits as The Convent and The Toolbox Murders (2003). As the Lord Protector (Patrick Cassidy) makes his way through a land of magic and mystery, his allies grow stronger and his enemies more fierce. Will the Lord Protector make it to the center of evil and banish the dark forces that plot destruction, or will the power of evil overwhelm this mortal man and envelope the entire planet in a shroud of darkness and despair?
Critic Reviews for Lord Protector: The Riddle of the Chosen
There are no critic reviews yet for Lord Protector: The Riddle of the Chosen. Keep checking Rotten Tomatoes for updates!
Audience Reviews for Lord Protector: The Riddle of the Chosen
Ha ha ha ha ha ha! This is awful! Ha ha ha ha ha! Acting is still considered a "profession", guys! OMFG! This is awful!...and I love its delicious suckiness! Sometimes it's not the actors' fault -- it's the director's. And sometimes, just everyone sucks. It's also quite possible that some of the home video travel footage I store in my garage was accidentally cut into the main feature, so royalty payments are expected. I'm just sayin'.
Christian C
Super Reviewer
Like Renaissance fairs? Wish they featured more community theatre over-actors, badly choreographed fights, and costumes that would make even Bob Mackie cry? Well I've got some good news for ya, chief; it's called Lord Protector and it's GENIUS! Phooey to the naysayers who sayeth that thiseth isn't the most craptacular thing they've ever witnessed. Every second of it is like a nugget of golden crap sent from bad movie heaven to lift future generations out of economic recessions. This just might be the worst thing a group of people has done since 'Cats'...or the holocaust. I can't even begin to imagine what copious amount of shrooms was required to keep the cast from fully realizing how damaging this was to humanity.
Brett Warren
Super Reviewer
Lord Protector: The Riddle of the Chosen Quotes
There are no approved quotes yet for this movie.