Lord Save Us From Your Followers
(2010)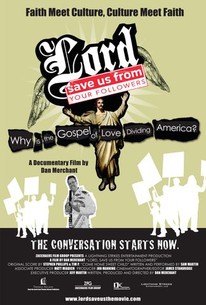 AUDIENCE SCORE
Critic Consensus: No consensus yet.
Movie Info
Filmmaker Dan Merchant explores the friction between faith and culture in America during a time when religious debate has flooded the media yet rhetoric has grown bitterly divisive in the lead-up to the 2008 presidential elections. By conducting man-on-the-street interviews, speaking with experts, and exploring the controversy of religion in humorous animated segments, Merchant examines how the country has been divided by the gospel of love. Dividing his time equally between speaking with such left-leaning media figures as Al Franken and "liberal evangelical" Tony Campolo and such notable conservatives as Michael Reagan, Jerry Falwell, and Pat Robertson, Merchant offers a well-rounded but unflinchingly critical study in the conflicts of faith in contemporary America. ~ Jason Buchanan, Rovi
Critic Reviews for Lord Save Us From Your Followers
All Critics (3) | Fresh (3) | Rotten (0)
An extraordinarily-insightful endeavor urging Evangelicals to examine their own morality in relation to Jesus' words instead of conveniently pointing fingers at folks they've long since dismissed as heathens.
Has perhaps the most apropos title of any movie you'll see this year.
Although it's somewhat messy in its organization and execution, Lord, Save Us From Your Followers is a great example of the modern essay film in action.
Audience Reviews for Lord Save Us From Your Followers
½
I know personally how I have been damaged by well meaning people using their religion as a weapon in the name of their church, faith and even God. It was refreshing to see a real Christian point to a solution. This movie helps restore some of the faith I have lost. Much more opportunity is available if more conservatives and (in general) Christians as a whole would watch this movie with an open-heart and open-mind.
Thomas Johnston
Super Reviewer
A thought-provoking documentary that explores the damage that has been done by the Church to a hurting world. This viewer could not watch this without being reminded of Anne Rice's recent renunciation of Christianity. If one needed an explanation of why someone might be led to declare oneself to be a follower of Jesus who is no longer a Christian, this film supplies ample ammunition. The film includes interviews with theologians on the forefront of religious thought on tolerance and with ordinary people whom the Church has marginalized. The narrator also recreates an experiment originally related in the Donald Miller book, "Blue Like Jazz", and gets some really poignant footage of the healing power of seeking forgiveness from those who have been wounded by our intolerance. The film does a pretty good job of pointing out where the Church has failed, but is a little short of offering insight into how to heal the divisions that tear us apart. The film is then a good starting point for opening a dialog to find ways to fulfill the mission to comfort the afflicted and afflict the comfortable.
Mark Abell
Super Reviewer
Wow, this was a fantastic documentary. It's something every Christian (and non-Christian) should see. It gives a different perspective on the Christians of today, how they act, how they should act and how people see them. I think it's an eye opening movie and shows what it really means to have love for one another.
Lord Save Us From Your Followers Quotes
There are no approved quotes yet for this movie.