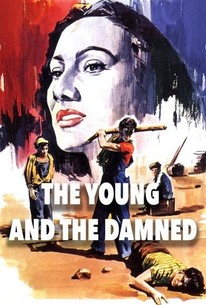 The Young and the Damned
1950, Drama, 1h 28m
44 Reviews
5,000+ Ratings
What to know
critics consensus
Los Olvidados casts an unsparing eye on juvenile crime -- and the systemically flawed societies that allow it to flourish. Read critic reviews
Rate And Review
The Young and the Damned Photos
Movie Info
Once he escapes juvenile prison, El Jaibo (Roberto Cobo) resumes his role as the ringleader of a group troubled street kids in Mexico City's slums. El Jaibo leads them to pilfer, but he wants retribution. Determined to find the man who allegedly sent him to jail, he enlists the help of Pedro (Alfonso Mejía), one of the younger boys. Before long, Pedro becomes entangled in a criminal world that threatens to destroy what little he has, no matter how hard he tries to leave that world behind.
Audience Reviews for The Young and the Damned
The fact that this daring classic enraged its audiences in Mexico when it came out is completely understandable, considering all it implies without actually showing and the unromanticized way that it exposes the misery faced by poor children and teenagers amid all the indifference.

"Los Olvidados" is a 1950 Mexican film that goes largely unnoticed by the general public. You don't hear anyone talking about "Los Olvidados" in the same vein as "Bicycle Thieves", "The 400 Blows", and "Cidades de Dues" (City of God) when too it comes to films depicting the hardship of poverty and a deconstruction of people living in these environment. Los Olvidados is about group of juvenile delinquents living a violent and crime-filled life in the festering slums of Mexico City, and the morals of young Pedro are gradually corrupted and destroyed by the others. Poverty is a subject matter that no ones feel comfortable seeing especially from the point of view of kids. The depiction of poverty stricken kids is not one that is easy to take in either. The kids we follow steal, murder, beat up a blind man, struggle to get by on a daily basis, have strained relationships with their parents, and friendships crumbling in an environment that forces them to take the wrong path in life. The film doesn't paint anyone in morality. Everyone here is a shade of grey with foreseeable consequences. We question the characters action, but at the same time the environment and people around them left them no other choice. The approach to its real life issues are handled realistically and with respect. One crucial scene has the head of a youth rehabilitation center questioning a mother parenting. Sparking a debate between the two if the kid should be blamed for his criminal action or his mother who regardless of providing for her family is abusive and cruel to her son. It's a thought provoking cinematic piece that feels too close to home striking a chord. Poverty is a problem that can't be erased nor it is it one we can ignore. These are the same reasons it is off putting for audiences. No one like seeing kids struggling to live or be killed, but are events that happened. Whether we choose to embrace a film that bring an unsettling subject matter to our attention is up to you. Los Olvidados (The Forgotten Ones) is a painful relevant look on poverty made all the more powerful from the point of the views of kids. It's not an easy film to view for no entertainment can out from it. It's a depressingly honest depiction of poverty and the effect it can have the human spirit. Historical Note: As told in Buñuel's autobiography "Mon Dernier Soupir" -- a mandatory book for all interested in artistic creativity: "Los Olvidados" only got made because Buñuel had had a financial success the previous year with his second Mexican film, "El Gran Calavera". As a preparation for "Olvidados" and wearing his worst clothes, Buñuel circulated for five months in slums and poor areas around Mexico City to get the right "feel" and language for the characters. When the film was released in Mexico, it was attacked by everyone as an insult to the country and its people -- and remained just 4 days in theaters. Buñuel was threatened and attacked ("an exiled Spaniard showing those filthy lies about Mexico!"). Only after the triumph in Cannes the film became internationally recognized as a masterpiece and went back to theaters in Mexico, winning the respect of critics and intellectuals, an array of awards and allowing Buñuel to continue his career there.

Years before his satirical digs towards the bourgeoisie crowd with masterful films like "The Discreet Charm of the Bourgeoisie" and "The Phantom of Liberty", Luis Buñuel was already out there stressing a significant point or two. And in "Los Olvidados'" case, it is the tragedy of children forced into the life of crime not because they want to but because there really is no other option; that and maybe some lack of guidance and parental warmth. Can you really blame a petty crime solely on the small hands that have done it? With a visual preference that is geared more towards neorealism, this film specifically highlights Luis Buñuel's humbler days as a filmmaker both in imagery and themes. But being the audacious auteur that he always was, he has successfully combined the grittiness of social realism with the visual profundity of surrealism. What resulted was a brave, candid and ultimately gut-churning film that emphasizes the sheer decay of youth life in post-war Mexico that's as potent to this day as it was when it was released more than 60 years ago. Youth angst, as we all know, is a favorite topic amongst filmmakers. Be it in the context of formal education, societal disconnection or simple case of immature alienation, directors have wallowed in them, sometimes to pretentious extent. But only a few films have really embraced the topic of adolescence with an intention to expose something alarmingly rancid and truthful. One of them is "Los Olvidados". Years before "City of God" has rocked the film world with its fearless portrait of youth criminality in the titular Rio de Janeiro neighborhood, "Los Olvidados" has already left a mark in the world of cinema with its intense depiction of spontaneous criminality committed by the most fragile of bodies and the youngest of minds. In every country's underbelly, there are criminals who will steal and kill for money. Luis Buñuel has highlighted the sad fact that among those low-lives are young ones who doesn't even know what's left from right, right from wrong. The truth hurts indeed. Generally about the reality of youth criminality, "Los Olvidados" is focused on three facets, represented by three unforgettable characters: El Jaibo (Roberto Cobo) the full-fledged criminal, young Pedro (Alfonso Mejia) the conflicted one, and Ojitos (Mario Ramirez), the kindred boy who got dragged in the middle of it all. With these characters, Buñuel was able to explore the extent of their reality by mixing both hope and despair. Hope that one of them may ultimately choose to escape and lead a better life, and despair that maybe all of them are, after all, futilely treading a path towards a moral cul-de-sac. And between those, there were Buñuel's chickens. All throughout the film and even in one of the characters' dream, chickens were ever-present. How do these feathery animals really figure in on the film's whole thematic plateau? "Look into the eyes of a chicken and you will see real stupidity," the great Werner Herzog has stated. Though that is too derogatory a remark, I think that it speaks well for what Buñuel's chickens may ultimately signify in this film. With that blunt statement about chickens, maybe what Herzog mistakes as idiocy, Buñuel sees as naivety. Perhaps it's not stupidity that they represent but innocence. And in every chickens smashed into smithereens (as in the film), it is innocence lost. Maybe that also applies quite well with the notorious chicken sex scene in "Pink Flamingos". Back in 1950 when the Mexican government was eager for its citizens to see, feel and sense progress even when it means suppressing truth itself, "Los Olvidados" is incredibly audacious, what with its decrepit portrayal of urban squalor and looming sense of hopelessness. But this, I think, is also an urgent film of terrible necessity because it shows something painfully real. "Los Olvidados", with its timeless statement about impoverished youth life, is one of those truly powerful cinematic creations that constantly remind us that not all children are for the good old sing and dance.

Aggressive,iconic,mesmerizing in every frame.Bunuel's depiction of the grim social life of a bunch of street smarts and other lost souls is hallucinating.A staggering finale for a maleficent future prediction.
See Details