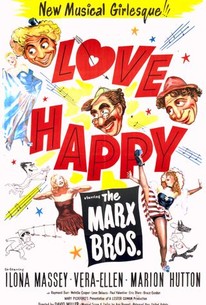 Love Happy
1949, Comedy/Musical, 1h 31m
3 Reviews
1,000+ Ratings
Rate And Review
Movie Info
A detective (Groucho Marx) and a shoplifter (Harpo Marx) race a dangerous blonde (Ilona Massey) to recover the stolen Romanoff diamonds.
Audience Reviews for Love Happy
Okay but not the brothers best. Vera-Ellen's dance number based on Maugham's Rain is unusual and as always she dances beautifully. Marilyn is in and out within minutes but is a knockout.

Although this was their last real movie together, the Marx Brothers still had their charm in the fifties, and this movie is hilarious. The story revolves around Harpo for a change, but Groucho and Chico have good roles as well. This movie is really funny, I liked it, and if you like the Marx Brothers you should see this one. I don't know why some people don't like it, I suppose it wasn't what they expected, but I thought it was a lot of fun.

Love Happy" is remembered, primarily, as the last "Official" Marx Brothers film (they would all appear in brief vignettes in "The Story of Mankind", seven years later, but not as a team), but if the film were a baseball statistic, it would have an asterik (*), because it truly isn't a showcase of the brothers, together, but a comedy starring Harpo, with Chico in a supporting role, and Groucho doing narration, and making brief appearances, occasionally (rather like the "General Electric Theater" TV episode the brothers would do, in 1959, where Harpo and Chico played crooks with hearts of gold, and Groucho would make a surprise appearance at the finale, as their lawyer). As a comedy, "Love Happy" is so-so, with Harpo providing some genuine laughs, particularly during an interrogation scene with villains Raymond Burr, Ilona Massey, Eric Blore, and Bruce Gordon, and in the rooftop finale, with Harpo offering the same kind of outrageous physical humor that he had demonstrated in the classic MGM comedies. But the rest of the plot, while mildly entertaining, is simply a musical variation of "Room Service", as an impoverished group of performers (headed by Paul Valentine and future star Vera-Ellen) struggle to put on a Broadway musical. The back story of the film is possibly more entertaining than the movie, itself; Harpo had wanted to make a solo film throughout the forties, and had tinkered on the script for several years, while soliciting financial backing for the project. Chico, meanwhile, was running up huge gambling debts, as was often the case (while a brilliant card player, he was a notoriously bad gambler), and just as the Marxes had made "A Night in Casablanca", in 1946, to pay off his debts at that time, Harpo brought him into "Love Happy" to do the same. Unfortunately, the end of the decade was a depressed time for film making (with television making inroads into the ticket-buying public), and backers would only fund the project if all three brothers would appear in the movie. Groucho, by now a genuine TV star, thanks to the "You Bet Your Life" quiz show, hated the script of "Love Happy", and had little desire to co-star in the film. He was, however, loyal to his brothers, and finally reached a compromise; he would only appear briefly, would not have to wear his trademark greasepaint eyebrows and mustache, and would have final approval of his dialog and the performers working with him. He could honestly say he helped 'discover' Marilyn Monroe, at an open audition (watching two other starlets walk across a stage, followed by Marilyn, when asked for his pick for a small role, he raised his eyebrows and quipped, "You're kidding, right?") Be warned: While "Love Happy" is not terrible, it certainly is no "Night at the Opera", or "Duck Soup"!

Wish the last Marx Brothers movie was better.
See Details