Love in the Time of Money
(2002)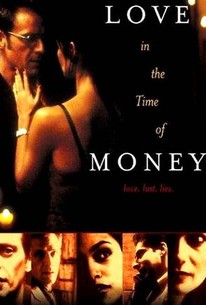 Love in the Time of Money Photos
Movie Info
Like La Ronde, Peter Mattei's debut film Love in the Time of Money consists of a series of conversational duets that ultimately returns to the person who started the entire chain of events. Starting with prostitute Greta (Vera Farmiga) and disgruntled trick Eddie (Domenick Lombardozzi), the story soon includes a housewife on the look for an affair (Jill Hennessy), her husband (Malcolm Gets), an artist (Steve Buscemi), a gallery worker (Rosario Dawson), and a salesman (The Sopranos' Michael Imperioli). This film was screened at the 2002 Sundance Film Festival after being developed in the Sundance labs.
Critic Reviews for Love in the Time of Money
Audience Reviews for Love in the Time of Money
"Love in the Time of Money" is not the first updating of "La Ronde" to the present day in New York City and it probably won't be the last, either. This particular group of linked encounters starts with Greta(Vera Farmiga) on her first night as a prostitute and hopefully her last, considering how badly her meeting with her first customer, Eddie(Domenick Lombardozzi, with hair), goes. After which, Eddie goes back to his job as a plumber and uptown where he does some work for Ellen(Jill Hennessy). Overall, "Love in the Time of Money" is inconsistent, with a couple of cheap shots at the modern art world. The best part features Steve Buscemi and Rosario Dawson which is a combination that should not click in any possible universe. But here they have a spark between them which goes down to their skill as actors. On the minus side, any segment involving Adrian Grenier is dead on arrival.
½
kind of pointless jumble of affairs. a little too "indie" for me
Coxxie Mild Sauce
Super Reviewer
Love in the Time of Money Quotes
There are no approved quotes yet for this movie.