Love Potion No. 9
(1992)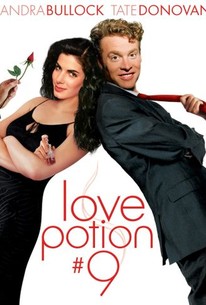 Movie Info
When it comes to love, Paul Matthews and Diane Farrow, two highly educated and talented scientists don't know a thing. Looking at their geeky demeanor's it's easy to see why. Despite the fact that both are neighbors, share the same interests and both are psychobiologists who study primates, neither is really aware of the other romantically until Paul, who is terribly shy around women, goes to gypsy Madame Ruth in desperation and asks for help. She reads his palm and tells him that he needs a woman; she then hands him Love Potion No. 8 which will attract women like flies to honey. This romantic comedy chronicles what happens to him (and Diane) when, after experimenting on animals, they decide to try it on themselves. Though the changes only last four hours per dose, they are truly remarkable and the two agree to separate for three weeks and then come back together to compare results. The time passes quickly and wonderfully for them and when they finally reunite both have changed for the better. Just for fun, they decide to go out with each other. They do not drink the potion, but still have a wonderful and passionate night. This leads Paul to propose to Diane. Unfortunately, she thinks she loves another, a man who is really more interested in exploiting the potion for money than he is in her. He ends up buying up all of Madame Ruth's latest batch. Paul goes back to her and explains his problem and that is when Ruth hands him the potent Love Potion No. 9, which can manifest true love. Quickly, he takes it and sets off to find Diane before she makes a terrible mistake.
Critic Reviews for Love Potion No. 9
Audience Reviews for Love Potion No. 9
Such a cute little movie. Honestly I was clearing some old DVDs intending to move them on, but I popped this in to watch for a few minutes and put it back in the collection! (After watching the whole thing). As TV movies go, this is a good one. Quite funny in places and cast are good.
Nicki Marie
Super Reviewer
½
Gypsy love potion transforms lonely, awkward and shy science geeks into not-quite-so-geeky in this formulaic though cute romcom from the 90's that was Sandra Bullock's first starring role and set the pattern in her career of playing wallflowers who suddenly bloom.
Kevin M. Williams
Super Reviewer
½
This was a funny comedy. The situation was a little silly and you could tell were it was heading in the end but it was fun.
Jason Spencer
Super Reviewer