Mac & Devin Go To High School
(2012)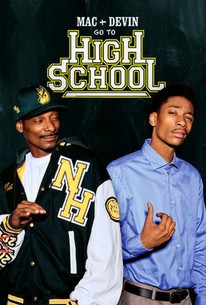 AUDIENCE SCORE
Critic Consensus: No consensus yet.
Mac & Devin Go To High School Photos
Movie Info
A 15th year high school senior teams up with the current class valedictorian for a crucial chemistry project, and together they help each other make the grades to graduate in this high-grade pot comedy starring legendary rapper Snoop Dogg. Mac (Dogg) has been dealing weed at N. Hale High for over a decade. Unfortunately his sky high antics have kept his diploma well out of reach. If he doesn't graduate soon, he'll never hook up with the leggy substitute who tempts him in the hallway. Meanwhile, Mac's egghead classmate Devin (Wiz Khalifa) has never blazed up in his whole life. He's in top running for a big scholarship, but he needs to earn straight 'A's to get it. Perhaps with the guidance of their nefarious math teacher (Mike Epps), a little assistance from an unhinged classmate (Andy Milonakis), and a closet full of California kush, Mac will finally graduate, and Devin will get the earn his coveted scholarship while learning to cut loose and have a little fun in the process.
Critic Reviews for Mac & Devin Go To High School
Audience Reviews for Mac & Devin Go To High School
Mac & Devin go to High School isn't what I'd call a good movie, or really even a movie to be honest. It's extremely short, clocking in at about 70 minutes and it doesn't really try all that hard. I didn't expect to watch something good though; I expected to see exactly what I did. It's a weed movie, and from the offset, a small talking joint tells you this. He also says if you don't have weed to turn the movie off because weed is needed. The joint don't lie either. Mac is a fifteenth year senior and drug dealer. Devin is a valedictorian who is trying to balance his school with his girl friend. When Mac and Devin get paired up for a science fair, Mac introduces Devin to marijuana and it changes Devin's whole outlook on life.  There's a few good jokes, but I enjoyed the experience because I really like Wiz Khalifa and Snoop Dogg and the cd that this movie was basically made to help market. I don't see there being a huge audience for a movie like this, but fans of the two rappers will get a kick out of it. It's nothing special, but it's worth a look if you think it looks at all entertaining.
Melvin White
Super Reviewer
Mac & Devin Go To High School Quotes
There are no approved quotes yet for this movie.