Mademoiselle Chambon
(2010)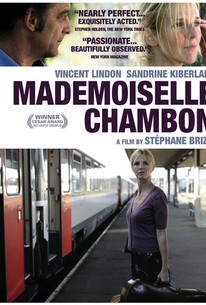 Mademoiselle Chambon Photos
Movie Info
Two adults struggle to avoid letting their erotic passion for one another guide them into infidelity in this subtly erotic, understated chamber drama from France. Vincent Lindon stars as Jean, a burly blue-collar mason who lives semi-contentedly with his wife, Anne-Marie (Aure Atika), and son, Jérémy (Arthur Le Houérou), in some unspecified provincial French town. Little passion exists in Jean's life -- until his path crisscrosses with that of Véronique Chambon (Sandrine Kiberlain), his son's violin teacher. Completely taken with the woman's cultural sophistication (manifested through her love of classical music) and intellectualism, Jean begins contemplating an affair with this virtual stranger, and offers to repair one of her windows as an excuse to be more proximate to her. Ultimately, suspense begins to build as the question lingers of whether the two will give in to their desires. Stéphane Brizé directed and authored the script, an adaptation of Eric Holder's novel. ~ Nathan Southern, Rovi
News & Interviews for Mademoiselle Chambon
Critic Reviews for Mademoiselle Chambon
Audience Reviews for Mademoiselle Chambon
½
A carpenter resists having an affair with his son's schoolteacher. Mademoiselle Chambon features strong performances by Sandrine Kiberlain and Vincent Lindon as the two lead characters. Their characters are built on silence and subtle looks that make them fun to watch. The film's plot is meandering, taking far too long to get from point A to point B with few complications in between. It's slow, but it's slow in a way that I've grown accustomed to in modern French cinema. What is more, I'm not sure what the film is saying. Is it merely privileging a content marriage with a passionate affair? If so, such an aphorism has been said often and with greater effect. Overall, Mademoiselle Chambon has strong performances, but the story is lacking in clarity and dimension.
Jim Hunter
Super Reviewer
This was a lovely film that dealt with choices and how sometimes the very act of choosing causes pain no matter which choice one makes. The two lead actors, Vincent Lindon (Jean) and Sandrine Kiberlain (Veronique) gave us characters who conveyed their feelings with few words. There were silences that in another context might have been uncomfortable, but here felt completely natural because of the emotional presence of these two fine actors. The pace is slow, and does seem to drag at times, but the lovely scenery and the moral dilemma faced by these star-crossed lovers helps to assuage the languor one feels at times. Aure Atika plays Jean's wife (Anne-Marie), and her eyes tell us that she knows something is not quite right, but in true European fashion, rather than confront, she waits patiently for Jean to sort out his feelings. This is not a simple story. This seems like real people dealing with real moral choices and one feels that strong bonds are being tested. Those bonds that survive may thereby be stronger for the testing.
Mark Abell
Super Reviewer
½
In "Mademoiselle Chambon," Jean(Vincent Lindon) is a construction worker in a small town in France. When his wife Anne-Marie(Aure Atika) injures her back at work, he steps up to the plate, picking up their son Jeremy(Arthur Le Houerou) at school where he meets his teacher Veronique(Sandrine Kiberlain). She invites him to talk about his job in front of the class which turns out well and then asks him to fix the window in her apartment. "Mademoiselle Chambon" is a very lovely and sublime movie that handles the central relationship in a very natural way. Both characters carefully follow the small town rules for etiquette, being careful in each awkward step. All along the way, emotions are not so much articulated as expressed. And that's very believable for two people who have had their ambitions thwarted through life. On the surface, Jean might seem to be living a very happy life with a good job and loving family. However, he followed his father(Jean-Marc Thibault), who at 80 he takes care of with all of his sisters living elsewhere, into the family business without thinking about doing anything else with his life. Veronique awakens long dormant feelings of dissatisfaction in him. Her first passion is playing the violin which at some point she was either told that she was not quite good enough or could never make enough money at, so lacking encouragement, she fell back on the life of being an itinerant teacher. This is something that she is quite good at but there is also something missing from her life.
Mademoiselle Chambon Quotes
There are no approved quotes yet for this movie.