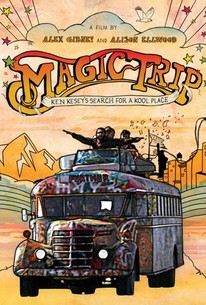 Magic Trip: Ken Kesey's Search for a Kool Place
2011, Documentary, 1h 30m
61 Reviews
2,500+ Ratings
What to know
critics consensus
Magic Trip is overall unenlightening, though there's an inherent novelty and joy in seeing the unearthed footage of Ken Kesey and his band of Merry Pranksters. Read critic reviews
Where to watch
Rent/buy
Rent/buy
Rate And Review
Magic Trip: Ken Kesey's Search for a Kool Place Photos
Movie Info
Directors Alex Gibney and Alison Ellwood present footage culled from a road trip to the 1964 New York World's Fair, which author Ken Kesey and the Merry Band of Pranksters made while on drugs.
News & Interviews for Magic Trip: Ken Kesey's Search for a Kool Place
Audience Reviews for Magic Trip: Ken Kesey's Search for a Kool Place
On a visit to New York City in 1963 to attend the premiere of the stage version of his novel "One Flew over the Cuckoo's Nest," Ken Kesey witnesses the construction of the World's Fair site and starts to plan a cross country trip the following year when it will be opened.(What? No Mets game in the new stadium?) At the same time, as Kirk Douglas recalls in his autobiography "The Ragman's Son," Kesey was already showing the tell-tale signs of taking LSD that he had begun as part of a government experiment a few years previously. That would provide the fuel for his friends on the journey, The Merry Pranksters, in a converted school bus, driven by the legendary Beat Neal Cassady who would be fueled by speed. As I recall from reading "The Electric Kool-Aid Acid Test" by Tom Wolfe(strangely not mentioned here even though it covers the same territory) in high school(Did I ever mention that I had the coolest history teacher ever?), the filmed footage which makes up the bulk of the documentary "Magic Trip" was brought up. At the time, that footage was not edited down into a manageable length and we can clearly see why as most of it looks so rough that it should come as no surprise that it was filmed by amateurs on drugs, with the exception of the World's Fair footage which looks cool. The documentary uses after the fact interviews to piece it all together and it sort of works to make a case for Kesey and his friends being not only a second generation Beats, but also the root genesis of the hippies. However, in the end, we only find out the fates of Kesey and Cassady and the divergent directions their lives would take them.

"Ken Kesey's Search for a Kool Place" Alex Gibney and Alison Ellwood's road, LSD, counterculture documentary Magic Trip is a film that is hard to wrap my head around. I can't really gather my feelings toward the film. Did I like it? Yeah, I guess I did. Why did I like it? I have no idea. Maybe it is that I love seeing footage and hearing stories about the 60's and the counterculture. Maybe it is that I love Gibney's approach to his documentaries(If your at all a fan of documentaries, his is a name you should know). Maybe it is because Ken Kesey is such an interesting human being. In the end, I just liked the film and who cares why. Magic Trip is about "a long, strange trip" from California to New York. On the surface it is about a road trip with a bunch of eccentric people who have their own views on the world, and express them through the use of LSD and by painting up their bus and playing music on top of it as they drive through city after city. At its core though, the film is about the start to the hippy, counterculture that the 60's is so well known for. At the time that Kesey and his friends set out for New York, there was a lot of change going on in the world. The Civil Rights movement was just starting to take shape. The hippy generation was coming to the forefront. So I guess if asked what this movie was really about, you could say, "Change." But wondering what it is about isn't what it's about. What was the counterculture movement about? It was about change. There's a lot of stuff going on in Magic Trip that won't be for everyone. It's presented in a kind of hallucinatory way. There are moments when we are supposedly in a trip right alongside all the people on the bus. We see colors flash across the screen and see people going crazy as they battle a "bad trip." The movie also comes off as disorganized and free formed. If you think about it, that was the only way to tackle a movie about this "trip." The counterculture movement was very freeform, so presenting this story in a disorganized way makes sense. Still, it could be off putting for some. I just look at this film, not as a sensical documentary like most of us are used to, but as an excursion into a time I can only see through pictures and videos. The 60's were all about change and the only way for me to experience it all is in films like this. As it is, this is a film that is more than it seems. It's also extremely interesting, even if we don't get the point of it all.
See Details