Major Dundee
(1965)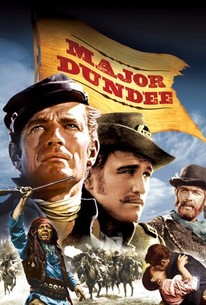 Movie Info
Sam Peckinpah's 1965 feature Major Dundee was recut and rescored for re-release theatrically in 2005, 40 years after its original release. The "Extended Version," as it is known officially, tells essentially the same story as the original but with clearer motivations for the characters (which often seemed vague or obscure in the 1965 edition) and much greater effectiveness. Major Amos Charles Dundee (Charlton Heston) is a West Point graduate who somehow -- it's not clear -- exceeded his orders while serving in the Battle of Gettysburg and, as punishment, has been taken out of combat and put in charge of a Union prison in New Mexico. He then gets word that marauding Apaches under Sierra Charriba (Michael Pate) have raided an American settlement, slaughtering the troops who were pursuing them and kidnapping three young boys, whom they've taken to their lair south of the Rio Grande (and if this sounds a lot like the plot of John Ford's Rio Grande, it's because they used the same story as inspiration). Dundee assumes responsibility for capturing or destroying the raiders and rescuing the captives, but because he has far too few men, he's forced to recruit prisoners, including his one-time friend, Confederate Captain Benjamin Tyreen (Richard Harris), and other "gentlemen of the South," to fill out his ranks. Tyreen and his men despise Dundee, but agree to serve on this mission in exchange for the chance for possible pardon of commutation of sentence (Tyreen and some of his men are facing the rope, for killing a guard in an escape attempt). The mission takes them deep into Mexico, where they free the children but now find themselves being stalked by the very Apaches that they were hunting, as well as having to fight off the French troops stationed there. And as they quickly see, the French troops, though white and supposedly "civilized" like themselves, treat the native Mexicans in ways that make the Apaches look almost saintly. In the end, this ragtag group of soldiers, malcontents, deserters, traitors, and criminals finds a larger cause in their quest -- bigger even than their own survival -- as they discover something uniquely fine and honorable in being an American, and in American ideals. It takes the sacrifice and deaths of many to get to that point, but the movie -- in this version -- gets us there convincingly, if in decidedly grim and bittersweet fashion. Though based on fiction and shot under incredibly (indeed, legendarily) chaotic conditions, the movie ultimately proves to be a rousingly disturbing examination of what it means to be an American, and the meaning of American ideals. ~ Bruce Eder, Rovi
Critic Reviews for Major Dundee
Audience Reviews for Major Dundee
½
What you got here is a Really Big Movie that didnt get made. The studio decided it was costing too much and pulled the plug. What remains is some great stuff that doesnt quite work. I sometimes wonder what it might have been if it had been completed.
eric emerson
½
I don't know what Sam Peckinpah intended but I'm pretty sure this 'studio edited' discombobulation isn't it. This is a good film that could have been a great one. High on the Richter scale of missed opportunity and unfulfilled potential. *If you have a choice, watch the 'extended version'. It's still not the film Peckinpah intended us to see but it's a damn sight closer than anything previously available.
Randy Tippy
Super Reviewer
Sam Peckinpah?s early, flawed, epic about a Union Major running a prison camp in the New Mexican front late in the civil war, who enlists Confederate prisoners in order to go after a renegade Apache. The film fell victim to immense studio tampering, it had its budget cut in half from the beginning, they gave Peckinpah pressure throughout the production, and they took the whole film away from him during the editing. As such we?re left with a Magnificent Ambersons situation of a movie with extensive lost footage; the full vision of what it could have been is unknown. The cut on DVD right now has been restored as much as possible, but it?s still not complete. What remains is a film that feels fractured and held together by a tacked on voice over. The film is still watchable, and the underlying concept of Union and confederate soldiers working together is quite interesting, one can see a story about a fractured America forced to unify somewhere below the surface. That said, not all of the movie?s problems can be pinned on the studio. The film?s visual style, while perfectly competent, is not anywhere near the heights achieved by Peckinpah?s other works, and the occasional night scenes are poorly lit making it hard to make out what?s going on.
Major Dundee Quotes
There are no approved quotes yet for this movie.
Discussion Forum
Discuss Major Dundee on our Movie forum!