Mala Noche
(2007)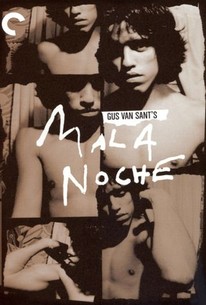 Movie Info
The debut film of director Gus Van Sant, this independent, low-budget comedy-drama based on an autobiographical novel by Walt Curtis was produced on black-and-white 16 mm film for only $25,000. Tim Streeter stars as Walt, the manager of a seedy liquor store in Portland, OR. Walt, who is gay, has fallen desperately in love with Johnny (Doug Cooeyate), a teenage illegal Mexican immigrant who doesn't speak English. Although Johnny is utterly unaffected by Walt's attentions, the boy does agree to sleep with his suitor for $25, but Walt can't come up with the cash. Introduced to Walt's sister Betty (Nyla McCarthy), it becomes clear that Johnny prefers her romantic company. Walt settles for Johnny's best friend Roberto Pepper (Ray Monge), becoming the boys' protector and patron, teaching them how to drive and trying to learn Spanish, despite their cruel indifference toward him. After Roberto is killed by the police, however, Johnny disappears and Betty moves to Alaska to become an exotic dancer, leaving a broken-hearted, lonely, but none the wiser Walt behind. Despite the fact that Mala Noche (1987) was a hit on the festival circuit, even winning Best Independent Film from the Los Angeles Film Critics Association, it was released theatrically only after the success of Van Sant's next film, Drugstore Cowboy (1989).
People Who Like this movie also like
Critic Reviews for Mala Noche
Audience Reviews for Mala Noche
½
This film's title makes me think of melanoma, which would indeed make for a pretty "bad night". ...I'd like to joke that no one gets the pun there, but I feel that too many people understand Spanish too well to not figure out that this film's title translates as "Bad Night". Sorry, but Spanish isn't too attractive of a language to me, but then again, this film is about a lot of unconventional attractions, which makes it the perfect debut for Gus Van Sant. Ladies and gentlemen, I present to you a prelude to a career dealing with gay people problems, set around a time when they were more relevant, what with AIDS issues and what have you. Come to think of it, this film missed out on a great opportunity to deal with very relevant AIDS issues, but instead, it chose to not really deal with much at all. Okay, maybe this film isn't that do-nothing, but if Van Sant keeps making these gay-themed films in an attempt to draw as much attention to issues he stands firm by as they do towards stuff like "Good Will Hunting" or something, maybe he should make dramas that more people would like to see. I like the film just fine ultimately, but it can get carried away with its artistic license, among other things, that is, not including exposition. Quickly moving you along its story and ultimately taking on a runtime of not even 80 minutes, this film is mighty thin with its expository depths, saying a fair bit about the characters it focuses on intimately, but not enough for you to get as invested as you probably should in more than a few, maybe most characters. Well, perhaps you shouldn't get too invested, because as thin as developmental value is, the story concept itself is about as thin, with conflict and scale so relatively light that one can kind of understand the 78-minute runtime, despite cut-backs on development. Still, as short as the film is, it takes some time to drag, with filler, something that you'd accurately figure the final product wouldn't have too much time for. Needless to say, it's not too long before filler overtakes the focus of the film and thins it into dissipation, resulting in bland narrative cold spells, made all the more blanding by atmospheric dry spells within a thoughtful directorial performance by Gus Van Sant whose questionable aspects don't tap out with the sense of momentum. I joked about it earlier, and sure enough, about as misguided as anything in this film is Van Sant's storytelling style, partly because it's uneven, underusing narrations that may be intentionally mixed in a way which makes it difficult to distinguish from dialogue, and breaking up relatively traditional storytelling with some abstractionism that is questionable enough by its own right, anchored by frantic visuals and other odd artistic expressions that are neither as gutsy as they want to be, nor as subdued as they should be. The film is ambitious in a lot of the wrong ways, and Van Sant was too fresh to the scene at this point to meet his own expectations, let alone the expectations of those hoping for a more tight, focused and stylistically grounded interpretation of subject matter that was always to be kind of forgettable. With that said, while it occupies a small window of your time, it doesn't squander it, being a generally fair debut for Van Sant, particularly as an orchestrator of, if nothing else, visual style. Its cameras' possible shortcomings to technical quality being at least very nearly obscured by a near-intensely deep black-and-white palette that's heavy on shadows, the film's visual style, powered by John Campbell's fine cinematographic eye, is unique, with a rugged, almost noirish grit that Gus Van Sant makes all the more nifty through stylishly dynamic angles that consistently impress aesthetically and, at times, immerse you into the environment of the film. This film is pretty heavily reliant on its style, particularly visual style, and the sheer quality of such style goes a long way in not simply saving the final product as decent, but in bonding you with the artistic heart of this drama, as surely as the performers bond you with the drama's substantial heart. The characters are so unevenly developed that the film stands a chance of falling flat as a should-be intimate character study, ultimately carried by performances - particularly that by leading man Tim Streeter - that, while nothing more than charismatic, charm, often greatly, further endearing you to a film of very limited substance. Of course, it's not as though the narrative is cleansed of intrigue, being dramatically lacking, but kind of unique as a portrait on the life of a love-struck gay man in the humble city of Portland, Oregon, with a certain color that Van Sant, as screenwriter, captures with some lively set pieces and clever dialogue and humor. Missteps in storytelling are considerable, but the strength nonetheless stand, with wit, charm and style that, in order to save the flimsy final product, but be well-arranged. An adequate arrangement is just what you get from Van Sant, as a director whose lack of experience and considerable deal of artistic ambition are problematic, yet met with enough inspiration to style and subtle pacing to craft enough fair entertainment value to endear through and through. Maybe the film could have been more, but it also could have been a lot less, and when it's all said and done, no matter how misguided, Van Sant's efforts engage enough to make a perfectly entertaining, if underwhelming art drama. At the end of the night, limited development to a story that is already of limited consequence, combined with unfocused, dry and stylistically uneven attributes to storytelling threaten decency, secured by the outstanding visual style, charming performances, clever writing and reasonably well-paced direction that make "Mala Noche" a fairly entertaining and endearing debut for Gus Van Sant, despite its rusty touches. 2.5/5 - Fair
Cameron Johnson
Super Reviewer
½
[font=Century Gothic]"Mala Noche," Gus Van Sant's promising debut film about drifters, starts with a chance meeting between a white hipster clerk, Walt(Tim Streeter), and Johnny(Doug Cooeyate), who is new in town from Mexico. Walt is instantly smitten with the newcomer. So, with the help of a friend, Betty(Nyla McCarthy), Walt locates the subject of his passion, but instead ends up in bed with Johnny's pal, Roberto(Ray Monge).[/font] [font=Century Gothic]All of these characters are simply using Portland, Oregon as a way station, with their eyes on the road constantly, even in an arcade. Occasionally, the guys hit the road briefly for a day-trip to the Pacific Ocean. This inertia is not driven by wanderlust, but by economics. For example, Betty mentions an offer to dance nude in Alaska for a good deal of money, otherwise she might not even consider it.[/font]
Just a beautiful looking film. Gus Van Sant gives a dark, urban atmosphere without the confines of mainstream cinema. He shows a love/obsession that is usually not able to be seen onscreen. The only part I wasn't a fan of was the narration, which took a lot away from the viewing experience. However, it was a small price to pay for an otherwise flawless debut.
Conner Rainwater
Super Reviewer
Mala Noche Quotes
There are no approved quotes yet for this movie.