Mama
(2013)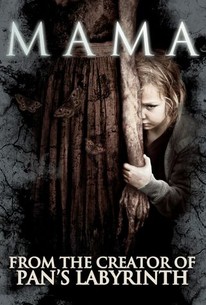 TOMATOMETER
AUDIENCE SCORE
Critic Consensus: If you're into old-school scares over cheap gore, you'll be able to get over Mama's confusing script and contrived plot devices.
Movie Info
Guillermo del Toro presents Mama, a supernatural thriller that tells the haunting tale of two little girls who disappeared into the woods the day that their mother was murdered. When they are rescued years later and begin a new life, they find that someone or something still wants to come tuck them in at night. The day their father killed their mother, sisters Victoria and Lilly vanished near their suburban neighborhood. For five long years, their Uncle Lucas (Nikolaj Coster-Waldau) and his girlfriend, Annabel (Jessica Chastain), have been madly searching for them. But when, incredibly, the kids are found alive in a decrepit cabin, the couple wonders if the girls are the only guests they have welcomed into their home. (c)Universal
News & Interviews for Mama
Audience Reviews for Mama
½
It is frustrating to see an efficient (and very scary) short movie adapted into such a weak feature film that, despite some creepy moments and good visual effects, is sadly bogged down by a pile of cheap scares, clichés and inconsistencies.
Carlos Magalhães
Super Reviewer
½
Though Mexican director Guillermo del Toro did not direct this film, his fingerprints are indelibly placed all over this film. He has a producing credit and is always presenting in advertising, but it is director Andres Muschietti who brought the concept to the screen. Based on his short film from 2008, this reimagining has a larger emphasis on the specter, Mama's, backstory and places macabre elements into the story. While "Mama" isn't anything new, it is refreshing to see a film that places emphasis on the ethereal and the familiar in its ghosts. Mama is not an interesting character, or a great ghost in the long run. Her presence is always frightening, and the look of her from a peripheral standpoint is freakish, but that's only when she's in the shadows. When she plays with the children, or hides in plain sight, she is scary, as she plays the "other" rather well, but when we finally see her in full view, it's clear she wasn't constructed to be frightening. The character designs in del Toro's films have become much narrower in recent years (Most applicable in "Don't Be Afraid of the Dark") and in this film it's easy to see where his influence changed the look of Mama. Everything else about this film feels a bit done, but that's not to say it's essentially bland. Annabel (Chastain) is an interesting character, who likes her independence, values not being a mother, and has a carefree relationship with her boyfriend Lucas (Coster-Waldau). Are any of these characteristics explored to enhance her character and make the impact of motherhood via adoption apparent compared to Mama's obsession? No. Annabel instead comes off as petty and sallow outcast who is a little cruel towards the kids. The setting was great, the set-up was impeccable, and the kids in this film are perfectly cast and super creepy, but it all feels done before. There's nothing really new here, except in ghost design for the eponymous character.
Spencer S.
Super Reviewer
"Mama" is well-realized film but not one of the most original stories to be told in this genre. It's still pretty good with some nicely directed sequences and Jessica Chastain continuing to astonish with her transformative acting but at the end of the day you see "Mama" coming from a mile away and she's a bit tired.
Tony Gandía
Super Reviewer
Mama Quotes
| | |
| --- | --- |
| Dr. Dreyfuss: | Victoria, who is Mama? Can you show her to me? |
| | |
| --- | --- |
| Annabel: | Victoria, what's under the bed? |
| | |
| --- | --- |
| Victoria: | Victoria's voice-mail recording: "Leave a message after the beep. F*ck you. Beeep!" |
| Victoria: | [Victoria's voice-mail recording] Leave a message after the beep. F*ck you. Beeep! |
| Annabel: | [Victoria's voice-mail recording] Leave a message after the beep. F*ck you. Beeep! |
| | |
| --- | --- |
| Lilly: | Victoria.. Mama.. Come |
| Lilly: | Victoria.. Mama.. Come. |
| Victoria: | Victoria Stay. |