The Man From Laramie
(1955)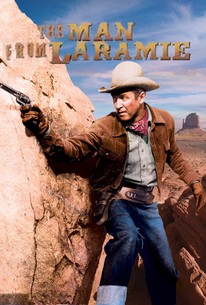 The Man From Laramie Photos
Movie Info
Anthony Mann directed this brilliant psychological Western reminiscent of Shakespeare's +King Lear. James Stewart plays Will Lockhart, who is obsessed with finding the man who sold automatic rifles to the Apaches, resulting in the death of his brother. Will enters the town of Coronado, NM, ruled by the blind and aging patriarch Alec Waggoman (Donald Crisp). Unaware that he is trespassing on Waggoman's land, he finds himself accosted by Alec's sociopathic son, Dave (Alex Nicol), who brutally beats Will and is ready to kill him. But Will is rescued at the last minute by Waggoman's adopted son, Vic Hansbro (Arthur Kennedy). Will finds that Waggoman has become increasingly concerned over who will inherit his vast empire.
Critic Reviews for The Man From Laramie
Audience Reviews for The Man From Laramie
½
Beautifully filmed and chock full of the wide ranging Western vistas the genre demands, the stranger (Jimmy Stewart) comes to town to find revenge for the death of his brother. The acting is okay here but it has trouble when up against a script like outta of some juvenile detention facility, as clunky as Lincoln Logs.
Kevin M. Williams
Super Reviewer
An okay movie for a western, Stewart is a great actor, and he brings the movie to life.
Like the Sons of Katie Elder, The Man from Laramie deals heavily with father/son relationships in the old west, and how the weak son fails the empire-carving father. The son Dave (Alex Nicol) isn't just weak and ignorant, he's also mean-spirited. Vic (Arthur Kennedy) is put in charge of "keeping" Dave, but Dave travels across the ranch like an oafish baby, and Vic can only keep him in line so well. But Vic has other reasons for disliking Dave, especially the fact that when the old man (Donald Crisp) dies, Dave will inherit (and likely fritter away) all the hard work he's put into the ranch. Lockhart (James Stewart) has come to to town supposedly to deliver a shipment to the general store, but his real agenda is to discover who sold the repeating rifles to the apaches who killed his brother. There are no stereotypical villains in this movie, no one is strictly speaking "evil" (except perhaps dave, who just wants to be the man his father was), they're more misguided. When the old man came out west, he had to be tough, as there wasn't any law to protect him and his property. Times have changed, and he wants his son to learn how to do the bookkeeping, but all Dave wants to do is play cowboy and spends every opportunity looking for a fight. Lockhart is shrewd and cool as a cucumber as he works towards finding his revenge, and it's a vengeance that won't be denied. The psychology of the characters is well fleshed out and puts the Man from Laramie a step above the stereotypical black-and-white westerns.
Devon Bott
Super Reviewer
The Man From Laramie Quotes
| | |
| --- | --- |
| Chris Boldt: | Well, I ain't got no references. But anybody can tell you that Chris Boldt is a man not to be trusted. That means nobody's secrets are sacred with me. |