Man Jeuk (The Sparrow) (Cultured Bird)
(2008)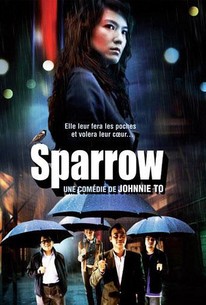 Movie Info
Simon Yam and Kelly Lin star in director Johnnie To's tale of three professional pickpockets, one mysterious beauty, and the elusive key that brings them all together. It's title taken from a street slang term describing the unique dexterity needed to lift wallets and flutter away undetected, Sparrow opens as Kei and his three partners in crime gingerly fleece unsuspecting strangers on the overcrowded streets of Hong Kong. The money Kei makes from this low-level criminal endeavor is plenty enough to sustain his modest lifestyle, and being free from the restraints of a nine to five job he can spend his days aimlessly peddling through the streets on his bicycle and snapping photos on his Rolleiflex. One day, with his lens trained on the street as usual, Kei notices a gorgeous woman wander into frame. Instantly smitten, the felonious shutterbug strikes up a conversation and learns her name is Chun Lei, and that she seems to have a particularly mysterious past. Later, it becomes apparent that Chun Lei has purposefully targeted the Kei and his partners in hopes that they will help her obtain a very important key. But Chun Lei isn't the only one in search of this elusive key, because shortly thereafter a timid tycoon named Mr. Yen shows up with a suspiciously similar request. ~ Jason Buchanan, Rovi
Critic Reviews for Man Jeuk (The Sparrow) (Cultured Bird)
Audience Reviews for Man Jeuk (The Sparrow) (Cultured Bird)
Quite slow and not the easiest to follow, but the scene at the end with no speaking is very well done and makes the movie worth a look. Also very nicely filmed street shots and I liked the black and white photography.
Nicki Marie
Super Reviewer
½
To never fails to bring a smile to my face, even when the plot is not making a lot of sense. Simon Yam has more charisma, screen persona and acting skills than all hollywood put together. Also, weird to see Ka Tung Lam not playing a villian.
Tsubaki Sanjuro
Super Reviewer
Johnnie To takes a step away from the usual crime suspense films that have made him a successful director and producer. It really is different to see no guns in a To film, but in the end, Sparrow is vintage Johnnie To.
The story revolves around pickpocketing, but there really is more to it than that. You need to pay attention and follow the characters to get the full effect of what is going on. As usual the dialogue is at a minimum, which lets the acting and great cinematography tell the story. The minimal dialogue does tend to keep you in the dark, but that just makes the movie that much more entertaining.
With Sparrow, the background music is upbeat, jazzy, and it does wonders in this setting. It is almost as if it is a musical of sorts. This is a nice way to liven up a drama.
The cast is made up of actors that are no strangers to Johnnie To films. Simon Yam is the lead once again and he carries this picture with no problem. The beautiful Kelly Lin fills the shoes for the female lead and she carries the film where Yam doesn't. Ka Tung Lam, Wing-cheong Law, Hoi-Pang Lo, and Kenneth Cheung round out the supporting cast. Lam Suet also finds a role to play in here.
Sparrow may be missing the great shootouts, cops, and gangsters that we are used to seeing, but that doesn't make this a bad film. This just shows that Johnnie To is able to take his directing style over to another type of genre. Don't be afraid to check this out if you are a Johnnie To fan.
Man Jeuk (The Sparrow) (Cultured Bird) Quotes
There are no approved quotes yet for this movie.