Man on a Tightrope
(1953)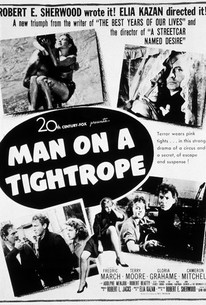 AUDIENCE SCORE
Critic Consensus: No consensus yet.
Man on a Tightrope Photos
Movie Info
Elia Kazan directed this drama inspired by a true story. Karel Cernik (Fredric March) is the leader of a troupe of Czechoslovakian circus performers who have been plying their trade in Eastern Europe for years. When Czechoslovakia falls under Communist rule, the proud and independent Cernik finds that he is no longer free to operate his circus as he sees fit. Many of his performers are conscripted into military service, and his equipment and possessions are declared government property, though the state fails to maintain it properly, or even to give him access to the material to fix it himself. Finally, when Cernik's remaining performers are ordered to insert pro-Communist messages into their acts, he decides that he can take no more and begins making plans to escape to Bavaria during an upcoming tour. Cernik's plans hit a snag, however, when he learns that one of his performers is a spy for the Czech communists, working in collusion with government factotum Fesker (Adolphe Menjou). While politics are making a mess of his professional life, his daughter Tereza (Terry Moore) is complicating matters at home because of her romance with the handsome but unreliable lion tamer Joe Vosdek (Cameron Mitchell), much to the chagrin of both Karel and his wife Zama (Gloria Grahame).
Critic Reviews for Man on a Tightrope
Audience Reviews for Man on a Tightrope
Fredric March leads his small circus troupe in a daring escape from Soviet occupied Czechoslovakia. Say what you want about Elia Kazan and his shameful role in Joseph McCarthy's witch-hunt, the man could direct with the best of 'em. Man on a Tightrope could have easily become cliché ridden propagandistic tripe but Kazan has crafted it into something of substance. ...and nobody but nobody plays an opportunistic slut like the magnificent Miss Gloria Grahame!
Randy Tippy
Super Reviewer
Although it lacks the fire and energy of Kazan's masterpieces, Man on a Tightrope is still an expertly crafted and wholly engaging film.
Man on a Tightrope Quotes
There are no approved quotes yet for this movie.
Discussion Forum
Discuss Man on a Tightrope on our Movie forum!