Manborg
(2011)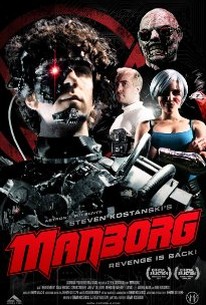 Movie Info
A half-man, half-cyborg hero seeks the source of his mysterious origins while fighting to reclaim the planet from an infernal tyrant hell bent on destroying humanity. Years ago, a brave human soldier perished in the first war against Hell. Decades later he reawakens in a powerful new body of steel. But the forces of darkness have also reawakened, and now the nefarious Count Draculon is determined to snuff out all light in the universe. With an Australian renegade, a blade-wielding beauty, and a true martial arts master by his side, however, Manborg prepares to show Count Draculon that the human race isn't about to go down without a fight. Matthew Kennedy and Meredity Sweeney star in this post-apocalyptic action yarn from the folks who brought you Father's Day.
Critic Reviews for Manborg
Audience Reviews for Manborg
Bad on purpose is still kinda bad, but major props for the stop-motion creature design.
Over the top ridiculousness is only mildly describing Manborg. This film is homage to 80's low budget Shlockers, and it is a fine little film that is very entertaining despite how cheesy it is. If you low budget trash, then this is definitely worth checking out. Manborg is a fun and entertaining hour and it is among the most refreshing concepts that I have seen in quite some time. The film was intentionally made to look cheap, and it adds to the films charm, and enjoyment. Sci Fi horror fans looking for a fun and entertaining cheese fest. Throughout the film the story, if there is one, is really tongue in cheek, and relies on bad over dubbing to create humorous dialogue. With that being said, it worked very well to create a campy low budget film that is lots of fun from start to finish. Now, I really didn't expect much from this film, but I was pleasantly surprised. The creativity that went into making this film has to be admired. The filmmakers clearly had a great time making this film and the result shows on-screen. Sure the film is ridiculous, but that's the point of it all. This is a film that is definitely not meant to be taken seriously. Although far from perfect, Manborg is sure to become a cult classic over the time. There is definitely an audience out there for a film like, and hopefully this low budget so bad it's good style Sci Fi action horror yarn will be enjoyed by genre fans. I found this film to be very entertaining and it is rare for the horror genre to deliver such a unique little gem like this. Packed with action, horror and gore, this is sure to satisfy the midnight film fan. However just make sure you leave your brain at the door and be prepared for the sheer ridiculous, but worthwhile ride that this low budget gem delivers so well.
Manborg Quotes
There are no approved quotes yet for this movie.