Manic
(2003)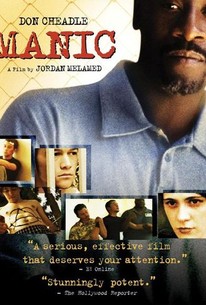 Movie Info
This first feature for filmmaker Jordan Melamed uses the verite style of the Dogme 95 movement for a hard-hitting drama centering on a group of troubled teens. Taking place entirely in a psychiatric ward, the film opens with Lyle (Joseph Gordon-Levitt), who has chosen to accept calm in the wake of being treated for wounds due to a violent outburst from a fight that left another young man in horrible shape. Learning that he won't be taken home by his mother, he is transferred instead to a juvenile lockdown facility and deemed a menace to society. After being sedated during an episode, he wakes up to a room shared by Kenny (Cody Lightning), a 12-year old child molester. Lyle is put off by his new surroundings and refuses to befriend the other inmates or cooperate with the patient, weary Dr. Monroe (Don Cheadle). But Lyle soon begins to adapt to his new life, meeting Chad (Michael Bacall), a bipolar case with an impending release who lures Lyle into a plan for an escape. Lyle also finds solace in Tracy (Zooey Deschanel), a young girl plagued with nightmares and self-mutilation, who finds herself drawn to him as well. Manic also features Elden Henson, Sara Rivas, and Blayne Weaver in supporting roles. ~ Jason Clark, Rovi
People Who Like this movie also like
Audience Reviews for Manic
½
Chad: I'd rather feel like total shit sometimes, and God the rest of the time, than just like - ok all the time, you know? Fuck mediocrity. "You Can't Escape Yourself" Manic has been a movie a really wanted to check out for sometime now and I'm happy I did. This is the type of movie that you don't see to often. It's pessimism will make you feel all the terrible things in your life. It's blunt, it's honest, and it's not all about the happy ending with this one. I respect the movie, but I must say it won't be for everyone. I didn't love it, and at times it's hard to watch. So much pessimism with no optimism will do that to the audience, but that's not to say that this wasn't made the right way. A story like this doesn't need happiness. Lyle is committed to a juvenile mental ward after brutally beating another kid with a baseball bat. He's supposed to find the reason why he is there. He's supposed to hone his anger, and be able to do productive things with it instead of using it in violent outbursts. He befriends a few of his peers and becomes enemies with one.  The film is shot in a handheld, quick shifting way that is effective with this type of movie. I liked the way it was shot. The score was also very good in a subtle type of way. But the main reason why I liked the movie was the performances. Everyone is phenomenal. Don Cheadle as the counselor, Joseph Gordon-Levitt as Lyle, and Zooey Deschanel as Tracy. The other actors whose names I don't know where great as well. Manic is a film worth watching if you can accept the bluntness and are able to handle the pessimism. It's not a fun movie to watch, it's not "entertaining", but what it is is a well-made, honest movie about a kid who may never get his anger under control. Well worth a look in my opinion.
Melvin White
Super Reviewer
½
You can't escape yourself. Great FIlm! The casting was excellent as each member of the ensemble portrayed their character with depth and individual motivation, and they all interacted believably. Joseph Gordon-Levitt plays his part just. . he's perfect in it, so is Zooey, she's absolutely beautiful in her character. So with those two, the movies already worth watching, Then you add the ward Doctor, Don Cheadie, he's just, amazing in this.This film describes mental illness for youths in a raw upfront manner that Hollywood could never handle, yet it is to be seen. All in all, Manic is a movie for those who truly care about the craft of film, care about collaborative, creative skill that can come from a work of the heart, care about humanity's relief from suffering, and care about compassionate answers for otherwise seemingly unsolvable problems. For all these reasons, I highly recommend this film. Lyle Jensen is subject to sudden and violent outbursts, and he is committed to the juvenile wing of the Northwood Mental Institution. Several other youths are there with a variety of serious problems. Lyle interacts with other patients and staff on a human, and sometimes not so human level. The psychological problems of the patients also forms the fabric by which we see what's right with them, and what's wrong with the society that affects them.
The acting is solid and strong from early Gorden-Levitt and Deschanel. Along with the cinematography being in cheap digital font, the feel is gritty and realistic. The story isn't deep but it'll have you hooked for the hour and a half.
Manic Quotes
| | |
| --- | --- |
| Dr. David Monroe: | Uh, I'm not gonna give you some bullshit hokey speech and tell you that if you come to some epiphany about your dad you're gonna make a break through and everything's gonna be pizza and blowjobs. |
| | |
| --- | --- |
| Chad: | I'd rather feel like total shit sometimes, and God the rest of the time, than just like - ok all the time, you know? Fuck mediocrity |
| Chad: | I'd rather feel like total shit sometimes, and God the rest of the time, than just like - ok all the time, you know? Fuck mediocrity. |