The Manson Family
(2004)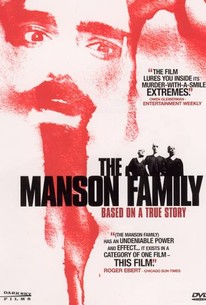 Movie Info
The fictitious TV show 'Crime Scene' conducts new jailhouse interviews with the members of Charlie's Family as they recollect the events of the summer of '69. Although the participants, Tex Adie, Lesley and Bobbie, often contradict one another to either show themselves vaguely as innocents or to sensationalize the story event further, the portrait of the '60s ideals of freedom and expression are twisted beyond recognition. The interviews are interspersed with devastatingly authentic dramatic recreations of mythical Manson family home movies. It starts with a group of innocent youths forming a commune, smoking pots, dropping acid, making love and making music. But, when their leader, Charlie, is rejected as an artist and money starts to become tight, the kids change their lifestyle in order to survive.
Critic Reviews for The Manson Family
Audience Reviews for The Manson Family
An effective docudrama about the cult of Manson which features mock interviews with the members of the cult along with flashbacks of their dirty deeds. Lots of sex, nudity, drug taking and graphic bloody stabbings. But it's all been shot in an hallucinogenic way with choppy editing, which I got and understood, but it didn't make for a comfortable viewing experience... a bit too wierd. It's not completely accurate to the original events either. Still, an interesting little fim.
½
Damn this movie was brutal! From the cover of the DVD I thought this movie was going to be more of a documentary. However it really wasnt,there were some interviews followed by some reinactments. The picture quilty of this movie was really,really bad. There was grain everywhere. This movie was creppy though. The Manson family is the story of Charles Manson's followers. How they were brainwashed to thinking that he was a God or something. Thier were many graphic sex scenes,much like a soft core porno. Then there were some of the most brutal deaths scenes I have ever seen! Which is saying alot bevilve me! This movie is defentiley not for the faint of heart. This movie might scare the shit out of you!
½
Interesting film that is most notable for being the infamous Van Beeber film. Years in the making, mostly in post, there were many articles and even a book put out before this film ever saw the light of day. I remember thinking I'd never get to see this. With that kind of anticipation, the film was sure to be a let down. Still, it's a great cross between an art film, bio pic and extreme horror with Van Beeber's expected anarchic style. Good stuff that really deserves a second viewing from me.
Christopher Brown
Super Reviewer
The Manson Family Quotes
There are no approved quotes yet for this movie.