Maqbool
(2003)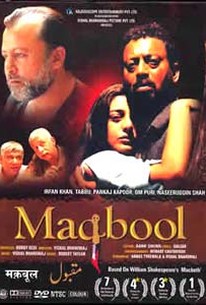 AUDIENCE SCORE
Critic Consensus: No consensus yet.
Movie Info
Shakespeare's classic tale of greed and ambition is transplanted to Mumbai's criminal underworld in this adaptation of +Macbeth from Indian writer-director Vishal Bhardwaj (Makdee). Bollywood legend Irrfan Khan (Slumdog Millionaire) stars as Macbeth stand-in Maqbool, the right-hand man of powerful crime boss Abbaji (Pankaj Kapur). When Maqbool begins an illicit affair with Abbaji's beautiful young mistress, Nimmi (Tabu), she convinces her lover to murder his boss and usurp his way to the top of the city's gangster syndicate.
Cast
Critic Reviews for Maqbool
There are no critic reviews yet for Maqbool. Keep checking Rotten Tomatoes for updates!
Audience Reviews for Maqbool
In "Maqbool," things are looking up for Miyan Maqbool(Irrfan Khan), a henchman of Abbaji(Pankaj Kapur), a crime lord in Mumbai, after he helps out in an attack against a rival gang in retaliation for the murder of Abbaji's brother. For his services, Maqbool is promoted to overseeing the gang's interests in Bollywood. The corrupt Inspector Pandit(Om Puri) predicts that this is only the beginning of his rise and his partner Purohit(Naseeruddin Shah) confirms that he is never wrong. Anyway, Maqbool is dissatisfied at his latest assignment which matches the unhappiness of Abbaji's mistress Nimmi(Tabu) who is starting to come on to him, saying how tired she is of Abbaji... "Maqbool" is a satisfactory take on Shakespeare's Macbeth that is stolen by Om Puri and Naseeruddin Shah playing a combination comic relief/Greek chorus. The movie is rather slowly paced for its first half(And Maqbool should not be freaking out until the deed is done.), taking too much time to set up the events of the second half. In other words, what comes around, goes around. Abbaji knows this but does Maqbool? Despite my lacking much knowledge of Indian traditions, I would say that this version's moral is centered around loyalty and that there are certain lines that should never be crossed. (Originally reviewed in the blog section on July 28, 2009.)
Maqbool Quotes
There are no approved quotes yet for this movie.