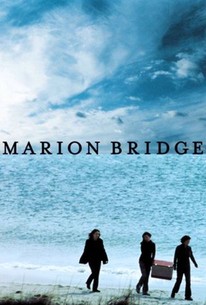 Marion Bridge
2002, Drama, 1h 30m
17 Reviews
1,000+ Ratings
Rate And Review
Movie Info
Driven away by dysfunction and repressed memories of child abuse at the hands of her father, recovering alcoholic Agnes (Molly Parker) returns home to Sydney, Nova Scotia, upon news that her ill mother, Rose (Marguerite McNeil), is expected to die soon. At home, the damaged Agnes joins her two equally scarred sisters, Theresa (Rebecca Jenkins) and Louise (Stacy Smith), in the caretaking responsibilities of their mother, a reunion that begins the process of emotional healing for the four women.
Audience Reviews for Marion Bridge
A highly emotional look at three sisters dealing with the impending death of their alcoholic mother, while repairing their relationships with each other and with their past. Terrific acting on the part of all concerned. Agnes (Molly Parker) seems to have sustained the most damage, and has developed strong coping skills while living away, in Toronto. Theresa (Rebecca Jenkins) is the older sister who remained behind and feels responsible for what remnants of their former life can still be found. Louise (Stacy Smith) is the youngest sister, who seems strangely detached from life and has difficulty connecting to those around her. Parker is spectacular and raises the stakes, causing the performances of all three to resonate believably well together. There is harmony in the performances, even as the dissonance of their past keeps making an appearance. The rural, Canadian seacoast scenery creates the atmosphere against which this plays out. Strong direction gave the viewer enough information concerning the past to make the interactions believable without revealing too much. Rather than serving it all up on a platter, one has to dig in to find the nuggets that lead to understanding. But the viewer is rewarded with a film that will lift the spirits as well as evoke a strong reaction to what brought these women to this place.

A trip through the mysterious dynamic of mothers, sisters and complicated families. Layered and darkly optimistic.
See Details