Marketa Lazarová
(1967)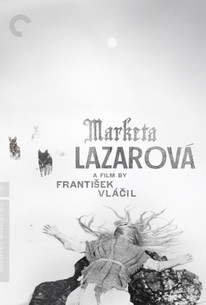 Movie Info
Vladislav Vancura's novel Marketa Lazarova was based on a centuries-old Czechoslovakian legend. The film version concerns itself with a group of pillaging feudal lords. Though they regard themselves as noble knights, these lords are a raping, robbing lot, slaves to the many superstitions that grip their land. Magda Vasaryova plays Marketa Lazarova, whose misadventures begin when she is kidnapped and abused by the "protagonists." Director Frantisek Vlacil spares us nothing in bringing the Vancura novel to the screen, not even a gruesomely convincing public beheading. ~ Hal Erickson, Rovi
Critic Reviews for Marketa Lazarová
Audience Reviews for Marketa Lazarová
½
It's gritty, black-and-white melodrama set in deep snow, and it features wolves, so I don't suppose cinema gets too much more Central Europe than this. Mix that all in with hyper-experimental storytelling which more-or-less ensures that the film is not quite as exciting as its subject matter, and you have yourself one classic European snoozefest. Oh yeah, who would have guessed that the idea behind 162 minutes of the Middle Ages, entirely in Czech, could be made into a boring movie? No, people, this film is reasonably engaging, and at any rate, I think that some respect is due here. I mean, seriously, people we're looking at what the people agree is... [b][u]the greatest Czech film of all time[/u][/b] (time, time, tim, ti, echo...), which would seem more like a high honor if, you know, this wasn't the only Czech film that people see. No one seems to keep up with Czech cinema, and yet, it's surprisingly busy, so how do you know that this, of all Czech films, is the best? I hope not, because even though this film is decent, it doesn't set too high of a standard for Czech filmmaking for me, for a number of reasons. Clocking in at about two hours and three quarters, this film promises to be an epic, and in terms of its being so heavily layered with its narrative, I suppose it is, yet there's hardly enough scope or dynamicity to justify a relatively sprawling length which is achieved largely through near-monotonous filler, and an even greater excess in material. The many narrative layers of this drama should fit reasonably snug in the context of the plot's progression, but if there is a sense of excess to the material, then it is stressed by a sense of episodicity, which sees the film spending too much time with each segment, yet not enough to flesh them out enough to make the eventual focal shifts smooth. The film is seriously uneven with its focus, just as its uneven with its pacing and, yes, even its style, which is often grounded, or at least highly atmospheric, until jarring into a touch of abstractionism which is not realized enough for the film to flow with its themes. As if that's not aggravating enough, on top of being uneven, the style of the film is already pretty problematic by its own right, because beyond pacing and focal consistency, there are such questionable structuring moves as the awkward placement of a text prologue before each segment, or overly thematic imagery, or ostensibly somewhat disjointed characterization, whose experimental tastes distance one's investment almost as much as experimental direction which relies too heavily on artistry and atmosphere to dramatically thrive. The combination of an overblown narrative and an overwrought style, and neither structure aspect's being as realized as they should be, render the film, well, sort of monotonous, at least when pacing is further stiffened by a chilled directorial atmosphere which dull things down, occasionally as tedious. When I say that tedium is occasional, I mean that the 160-smomething-minute runtime comes in handy by allowing the dramatic lowlights to be spread out few and far between, although, with that said, the film never abandons its problems, challenging them time and again with solid strengths, but not quite formidably enough for the final product to be memorable for anything beyond its aesthetic value. Still, as much as the film tries your patience, it shouldn't completely overpower it, because as artistically unrealized as this drama is, it has plenty to commend, even when it comes to visual style. Needless to say, this hyper-atmospheric art film is a little too reliant on its environment, but the deep snow setting of this lyrically bleak drama was always going to be instrumental in the establishment of both tone and aesthetic value, and sure enough, this film's beautiful environment goes complimented by cinematography by Bedřich Baťka which, while held back by a black-and-white palette, is playful enough in lighting and scope to attract you into this film's handsome world. Of course, the most impressive artistic aspect of this film is Zdeněk Lika's score, because whether it be flaunting biting pieces which range from sweeping to chilling, or delivering on outstanding triumphs in choral classical compositions, it proves to be more near-astoundingly beautiful, and decidedly effective in the context of this pseudo-epic. Limitations of the time sort of hold the artistic value of this film back, making it harder to deny the dramatic fumblings which highlights in style could have made up for, but the fact of the matter is that aesthetic value is rich enough to play a big role in making the film reasonably attractive. This attractiveness allows you to soak in the subject matter of this drama, which, as I've said time and again, is overwrought, with an exhausting amount of layers to mishandle with focal unevenness, in addition to stylistic unevenness and questionability which further thins substance, but hardly into obscurity, for their is enough intrigue to this Middle Ages adventure thriller and provocative deconstruction of humanity to hold up a lot of potential. Maybe this film could have soared, if it wasn't so caught up in its artistic license, because the final product really is about as reliant on style as it is on substance, and that betrays the potential of this film, though not quite as much as it could have. Frantiek Vláčil's direction feels more confident than genuinely realized, jarring between and rarely fully fleshing out his vision of a subtle drama and solid artistic expression, but no matter how much Vláčil's questionable touches hold the film back, when it comes to style, there is plenty of striking imagery and haunting plays on technical value and musicality to establish plenty of commendable aesthetic value, and when it comes to substance, when he gains a grip on his thoughtfulness, he delivers on a piercing subtlety and grace which was a fair ways ahead of the time. This was an innovative film, and it can still at least be respected for that, make no mistake, even if its touches will always be questionable, and yet, there have been much greater artistic misfires, with this misguided opus being well-drawn enough as an artistic endeavor and chilling drama to endear, despite being challenging. Kdy sníh konečně taje, near-exhausting excessiveness and unevenness to plotting, an uneven and already questionable style, and near-monotonous cold spells to atmospherics render the final product pretty decidedly underwhelming, but not the misfire that it could have been, because through a haunting visual style, outstanding musical style, intriguing premise, and generally stylistically sharp direction, Frantiek Vláčil's "Marketa Lazarová" stands as an adequately intriguing and occasionally engrossing, if overwrought classic in Czech and art cinema. 2.5/5 - Fair
Cameron Johnson
Super Reviewer
½
The film is like some fever dream that's intent on driving the viewer mad . . . and while the plot is dense, its probably not as difficult to follow as has been suggested. There is some truly unforgettable imagery on display here.
Alec Barniskis
Super Reviewer
a magnificent epic that's like a time machine trip to the dark ages. the story involves two 'noble' families who are little better than common thieves and their feud with each other and with the 'army' sent by the king to stop them from robbing travelers on the roads. in the middle of all this is marketa lazarová, a beautiful virgin promised to the convent but soon kidnapped by her decidedly more pagan neighbors. i read the director had the actors spend two years living in the woods in order to capture the mindset of medieval people and i think this really paid off. it's hard to imagine them living in modern times. just every frame of the film is a jaw dropping masterpiece. ridiculously great soundtrack too
Stella Dallas
Super Reviewer
Marketa Lazarová Quotes
There are no approved quotes yet for this movie.