Martin
(1977)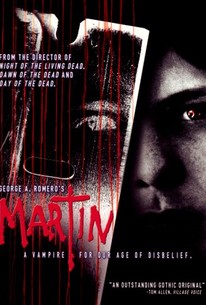 Movie Info
One of horror filmmaker George Romero's many "small" 1970s films, Martin was fortunate enough to foster a cult following that has enabled it to take its proper place as a minor classic. 17-year-old Martin (John Amplas) has convinced himself that he's actually an aged vampire. Since he has no fangs, Martin must resort to razor blades to draw blood. A regular caller to a local radio talk show, Martin is encouraged by the ratings-conscious host to persist in his vampiric behavior. Despite his random bloodletting, no one takes Martin too seriously except his grandfather Lincoln Maazel, who knows all too well that a vampire curse has befallen the boy. As is the case with all of Romero's films, Martin is best enjoyed on an empty stomach.
People Who Like this movie also like
Critic Reviews for Martin
Audience Reviews for Martin
Whether a "vampire" or a modern Frankenstein's creature, the protagonist of Martin is in fact a man-made proverbial monster, created by an anguished, frightened society in a deeply troubled era, repressed by conservative religious values and alienated for being what he is.
Carlos Magalhães
Super Reviewer
George A. Romero has once again departed from the zombie genre with Martin and created a memorable and classic vampire film in the process. This is a very well acted film that relies on basic ingredients to create the tension on-screen. This is a well crafted horror yarn that is in my opinion a forgotten vampire gem in the genre. Usually horror fans tend to focus more on films like Salem's Lot, Fright Night, The Lost Boys and Near Dark whenever they think of classic vampire films. George Romero's Martin seems to always get lost in the fold, and I think it's a shame because it is a very different film in the genre, and it is also a change of pace for Romero. This is a great film, and one that is sure to delight genre fans looking for an overlooked vampire film. George Romero has made quite an impact in the genre, but with Martin he has created something different. This is a very entertaining film from start to finish and it certainly delivers from genuine scares. If you love Romero's work, you'll certainly love this one. This is among the best vampire films in the genre and it is definitely a classic. You owe it to yourself to give Martin a viewing, and it ranks up there as one of the most memorable vampire features in the genre. Romero has always done some wonderful work, and he keeps up with that with this different film. As a fan of vampire films, I thoroughly enjoyed Romero's take on this classic tale, and he crafts a classic in the process. Martin is a well crafted film, and one that horror fans should definitely check out.
½
George Romero's Martin is my favorite vampire movie. Set in 1970's Pittsburgh. At times gruesome and at times extremely thoughtful. Also a great soundtrack and a superb final scene. The thinking man's vampire movie.
Graham Jones
Super Reviewer
Martin Quotes
There are no approved quotes yet for this movie.